Kindle Fire Used BlackBerry PlayBook as Hardware Template
Similarity between 7″ Amazon Kindle Fire and 7″ RIM PlayBook goes beyond looks.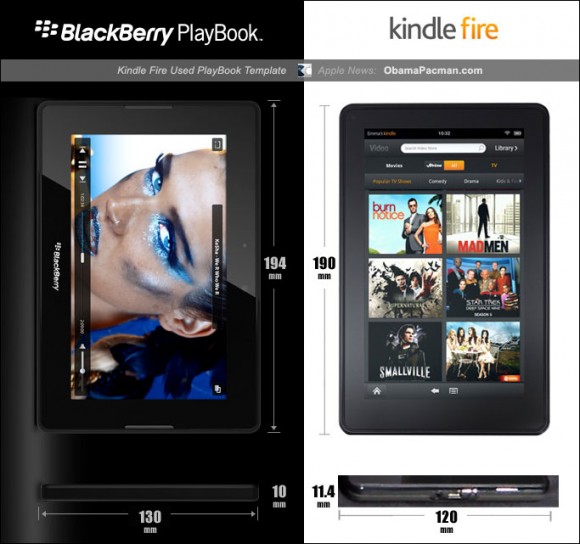 Why does the Kindle Fire looks like a copy of the failed BlackBerry PlayBook tablet?
"There's a resemblance alright, and it's not just aesthetic."
The Kindle Fire was not created by Amazon's own Kindle group, Lab 126. To take a short cut, Amazon turned to Quanta, the Taiwanese ODM (Original Design Manufacturer) of the outsourced RIM PlayBook:
[Amazon] turned to Quanta, which helped them "shortcut" the development process by using the PlayBook as their hardware template. Of course, it's never quite that simple, and as I'm told Amazon ran into trouble, and eventually sacrifices were made (like using a slower processor).
If it's based on or even just very much similar to the BlackBerry PlayBook, why is the Kindle Fire only $199 and the PlayBook started at $499?
ObamaPacman: Basically, according to the report, Amazon took the path of a knockoff maker. Instead of investing in R&D, it just paid someone at the factory (Quanta) to make a copy of an existing failed PlayBook. However, to cheapen the product, Amazon has to reduce hardware features: Kindle Fire has no volume buttons, no bluetooth, no microphone, low storage, etc.
Here's Amazon CEO Jeff Bezos announcing Kindle Fire and Kindle touch:
"There are two types of companies: those that work hard to charge customers more, and those that work hard to charge customers less. Both approaches can work. We are firmly in the second camp."
So, how hard did Amazon work? Its own Kindle Lab 126 didn't do much work. Did Amazon took the lazy way and made a BlackBerry PlayBook clone? We'll see when the Kindle Fire get released on November 15 and its parts are reveled in the inevitable dissection.

Related Posts