Amazon Silk Browser Revolutionizes Android Vendor Privacy Control
Amazon describes amazing user privacy control and long term support of Kindle Fire Silk browser.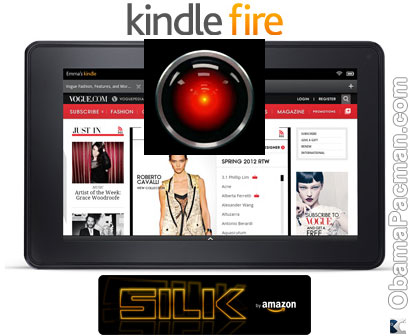 Kindle Fire: Privacy Issues
AMAZON SILK TERMS & CONDITIONS page describes that although its users can change the default search engine:
All text you enter in Amazon Silk's address bar is sent to a default search engine. The initial default search engine is selected by Amazon Silk, and we may change the default search engine in the future without notice to you.
And of course, Amazon will track you. But at least the data is not going to Google (at this time).
Silk Browser Can Be Abandoned
Amazon mentioned that it can abandon or replace Silk browser at any time:
In order to keep Amazon Silk up-to-date, Amazon may automatically update or upgrade the Software at any time and without notice to you. Further, Amazon may change, suspend, or discontinue Amazon Silk, or any part of Amazon Silk without notice or liability. If Amazon elects to provide customer support of any kind, it may terminate that support at any time without notice to you.
Wow. That's one locked down Android device.
It might kill the other (failing) 7″ Android tablets or the 7″ BlackBerry PlayBook, but the feature crippled Kindle Fire is no iPad killer, not with Apple refurb iPad starting at $299.
And note the huge differences between Kindle Fire and Silk browser logo. Does it look completely mismatched? To ObamaPacman, it hints of a fragmented user experience.

Related Posts