iTunes U Gets 600 Million Downloads [Stats + Popular Courses]
Stats of Apple iTunes University, which has programs contributed by some of the world's most prestigious instutions including Harvard, MIT, Cambridge, Oxford, University of Melbourne, University of Tokyo, and MoMA.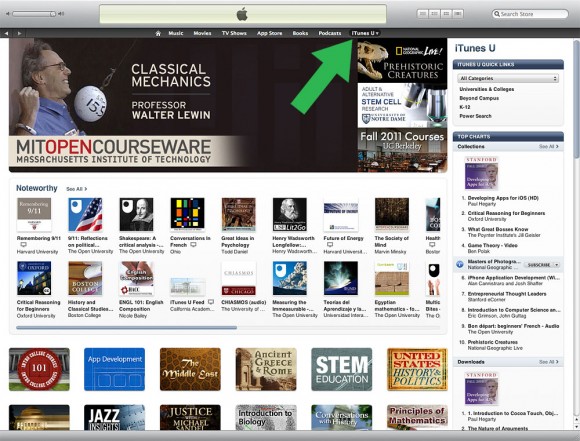 iTunes U has more than 800 universities with active accounts, half of them distribute content publicly on iTunes Store. There is also a "Beyond Campus" section with content from MoMA, the New York Public Library, Public Radio International, and PBS stations. It provides a wealth of free audio and video podcasts.
Apple iTunes University Stats
iTunes U stats excerpts from Loop Insight:
iTunes University achieved 600 million downloads since 2007 opening, with 300 million in past year
30 percent of iTunes U traffic comes from iOS devices
iTunes U is currently available in 123 countries
Most popular institutions on iTunes U:

10 million+ downloads: Emory University, Harrisburg Area Community College, Ludwig Maxmillians University (Germany), and Oxford University
20 million+ downloads: Yale University, MIT, University of California Berkeley, and University of South Florida
30 million+ downloads: Open University and Stanford University
Popular Stanford iTunes U downloads:
How to Access iTunes U
On Mac or PC
Open iTunes
Go to iTune Store (left pane)
Click iTunes U menu
On iOS device (iPhone, iPad, iPod touch):
Open iTunes App
Go to "More"
Click "iTunes U"
iTunes U quick links by institution type:

Related Posts