New iPhone + iOS Release Timeline [History]
iPhone 4 history shows these are the things that need to happen before you get the new 2011 iPhone in your hands. Bonus: estimated iPhone 5 release timeline.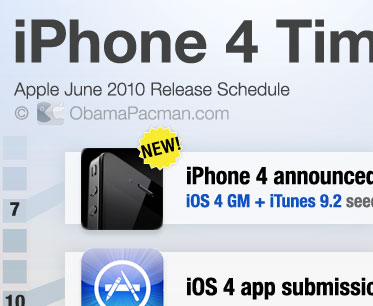 Wondering where is iOS 5 GM? Isn't it supposed to come out last week? This Apple iPhone 4 timeline will show you what needs to happen first.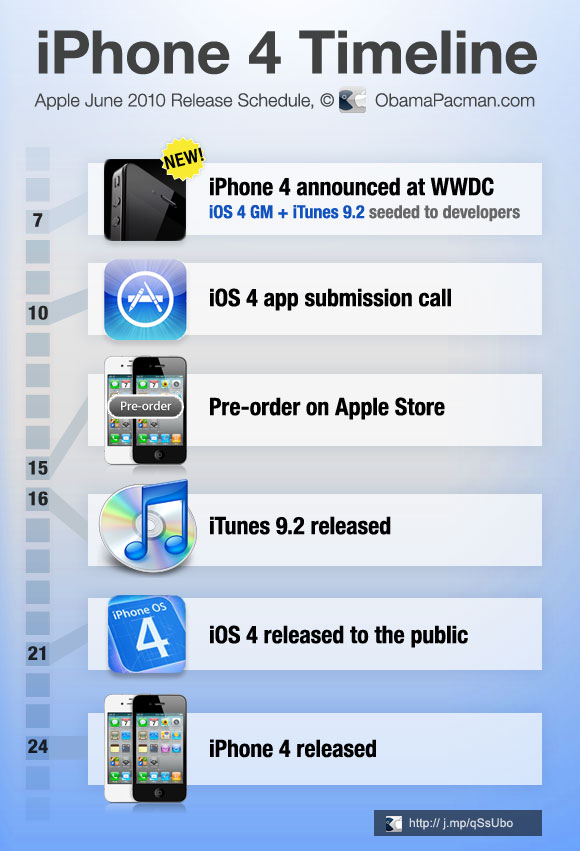 What does it mean? iOS 5 GM will not be released before iPhone 5 is announced on October 4.
iPhone 5, iOS 5, iTunes 10.5 Estimated Release Date
Here's the ObamaPacman estimate of iPhone 5 / iPhone 4Gs timeline, based on rumored October 14 launch:
Oct 4: Apple Keynote
Oct 4: iOS 5 GM + iTunes GM developer release
Oct 6, 7: iOS 5 App submission call
Oct 7, 10: iPhone pre-order
Oct 11: iTunes 10.5 public release
Oct 12: iOS 5 public release
Oct 14: iPhone release
OP accurately estimated the Apple Cupertino campus 2 mothership size, within 2% of actual size, two months before blueprints were released. However, the rumored mid October announce to launch cycle for the 2011 iPhone is 40% shorter than the release schedule of the iPhone 4. Thus it's harder to predict what will happen when. We'll update this estimate if Apple announced a different release date on the October 4 iPhone media event.
UPDATE October 11, we got 4 out of 5 predictions right:
(Good) Oct 4: iOS 5 GM + iTunes GM developer release
(Off by 2 days) Actual date Oct 4: iOS 5 App submission call
(Good) Oct 7: iPhone pre-order
(Good) Oct 11: iTunes 10.5 public release
(Good) Oct 12: iOS 5 public release
Illustration created by ObamaPacman, re-post of image without modification allowed, if credited and linked to this article. http://obamapacman.com/2011/09/iphone-ios-release-timeline/

Related Posts