iPhone 4 Glowing Apple Logo iPatch Mod
The Apple laptop's signature glowing Apple logo coming soon with iPhone 4 mod.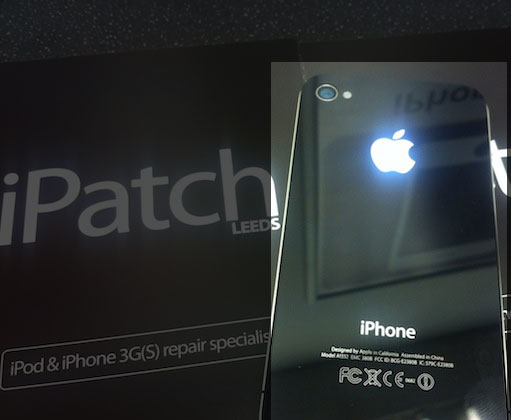 Cult of Mac reports of a new service from UK based iPatch iPhone & iPod repair specialists:
You can have your iPhone 4 modded to boast a glowing Apple logo every time your screen lights up…

Expected to cost less than £100 (approx. $159) when iPatch begins offering the service, which they estimate will be in less than a month.
However, Andy @ iPatch provides a different story in the comments:
Currently it takes around 4-5 hours to complete and requires very experienced electrical knowledge. I wish we could create a simple kit but as it's quite an advance mod, there would be no way to do it cost effectively and in a kit easy enough for someone to carry out.

The glowing Apple iPhone 4 mod is still in early test stages and has no price.
What about battery life? Andy:
There is no noticable change in day to day battery life from before or after the mod and the apple logo only illuminates at the same time as your front display (so isn't just on in your pocket etc). When the light is off, you are left with a standard 'frosted glass' apple logo.
ObamaPacman: It doesn't use the front display LED for illumination, so it would require frosted Apple logo iPhone 4 back, illumination source, and connection to the display power cables. Would need thin components to not alter the exterior dimensions.
Update: added quote on battery life.

Related Posts