HTC Sues Apple with Google Patent Help
Android vs. iOS battle is about to get serious. Android phone maker HTC is now suing Apple.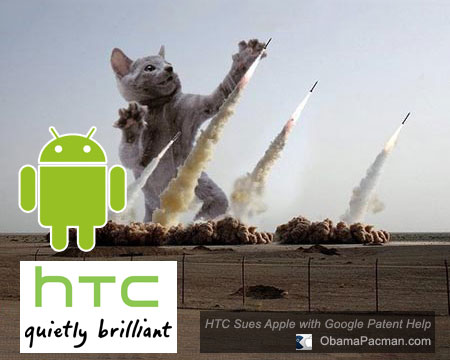 Today, HTC sued Apple's iPhone using new Google patents in federal court in Delaware, Bloomberg reports:
The nine patents originated with Palm Inc., Motorola Inc. and Openwave Systems Inc., with Google taking ownership within the past year, according to U.S. Patent and Trademark Office records. Mountain View, California-based Google recorded transfer of the patents to HTC on Sept. 1, according to the agency's website.
Is Apple doomed? Foss Patents:
Google knows that HTC is under tremendous legal pressure from Apple and clearly on the losing track. HTC is the first Android device maker sued by Apple, so that dispute is at the most advanced stage, and since HTC's own patent portfolio is weak, it has so far lacked the leverage to force Apple into a cross-license agreement. The possibility of HTC being defeated must have scared Google…

This intervention on Google's part increases the likelihood of direct litigation by Apple against Google. Apple may hold patents that could affect Google beyond Android.
ObamaPacman: If Motorola / Palm patents would win against Apple, Motorola would have sued Apple for royalty already.
HTC was formally a WiMP (Windows Mobile Phone) maker before iPhone killed phones with the obsolete Microsoft phone OS. If HTC loses Android lawsuits, it might abandon the Android adware OS and go back to Windows Phone 7. That's why Google is finally helping out a bit.
Image: Iranian missile photoshops

Related Posts