HP CEO Swapper iPad App [Humor]
iPad app revolutionizes how Hewlett-Packard deals with awkward CEO HR issues.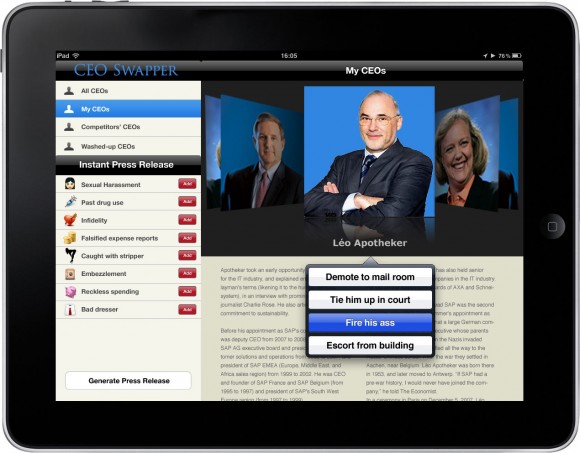 HP developed a great way to fire and hire new CEOs, Scoopertino reports:
Building on the expertise they've gained by firing two CEOs in less than a year, HP has launched CEO Swapper — a beautifully designed iPad app that makes it easier than ever to dispose of one CEO and pop in a new one.
HP CEO Swapper iPad App features:
CEO Seeker, shows potential hires, includes washed-up CEOs that might be available at bargain rates
Fire current CEO easily, by "touch to swap" button
Generate press releases with variety of built in (falsifying expense account, etc.) and customizable reasons
HP CEO Swapper app has a critical bug though, the app signs a check for $25 million per outgoing CEO.
HP Reality
Well, the spoof app is not too far off. Here's HP in real life:
August 6, 2010: HP CEO Mark Hurd "resigned" due to "expense-account irregularities"
September 30, 2010: Léo Apotheker became HP CEO
September 22, 2011: HP CEO Léo Apotheker "resigned" after decided to abandon PC market, WebOS TouchPad, and Palm Pre, without lining up any potential buyers. Meg Whitman became new HP CEO, because HP needs communication skills (surely that'll turn the company around)
Note Resigned = fired. Despite of being fired, Leo received a nice $25 million dollars for destroying HP's future as a hardware maker in 11 months.

Related Posts