HP Appoints CEO Meg Whitman [Humor]
Steve Woz, Apple I, Jeopardy-playing machines, and ebay featured in this Onion styled Hewlett Packard announcement.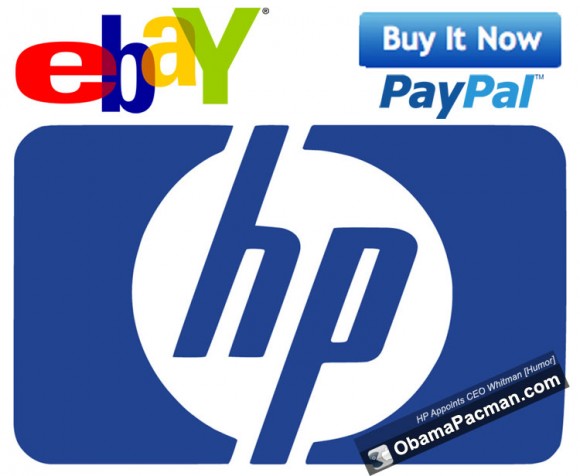 In a Hacker News discussion thread, Dgallagher posted funny Onion / Scoopertino styled response to HP's new CEO announcement:
HP appointed Meg Whitman as CEO earlier today, in an attempt to save the troubled computer maker. When asked what her first course of action would be, Mrs. Whitman firmly answered "eBay."

"I'm an excellent eBayer, and have been for years. You've never seen a feedback profile with so many A+++++'s before." Mrs. Whitman continued, "HP has warehouses full of inventory, ready to be gobbled up by the highest bidder. On my way in today, I must have passed about a dozen pallets of iPaq 3630's just collecting dust. Those go for a lot of money you know! There's so much stuff just lying around here that can be sold for big big bucks!"

The board of directors was quick to point out Mrs. Whitman's Titanium PowerSeller level status, among her many other credentials. "She accepts all major forms of payment, including PayPal." When asked about their CEO selection process, a board member went on to say "We won an auction for a used paper towel holder from her the other week. She even emailed a tracking number so we could determine the exact date it would be delivered. I must have refreshed UPS.com about a zillion times! Well, when we got it, turns out it was actually new, not used! That level of service amazed us, and we knew right then and there we found our next CEO."
Mrs. Whitman quickly detailed a plan to get the company back on track, including getting their feedback rating back up to 100%. "All these negative feedbacks about this Norton AntiVirus thing have got to go. And paying to upgrade your auction to bold, and including a picture, really does make a difference!" One shareholder noted that "It's executive-level thinking like this which will save this company." Other Shareholders have agreed, and bid the stock up to a yearly-high shortly after the announcement.

"Is Woz's cubicle still around here? I bet there's several Apple I's under his desk that'll go for lots."

When asked about long-term prospects beyond selling all of HP's assets, Mrs. Whitman indicated that they can continue to thrive by adopting IBM's business model of advertising their brand everywhere, without actually selling anything, financing it with Jeopardy-playing machines. "I love that show and watch it every night. Ooo, maybe we can make a Wheel of Fortune machine too! That'll really pump our margins up!"
Making Jeopardy-playing machines is a brilliant idea. Too bad HP is about to abandon its PC division and its position as the top company paying the Microsoft Windows tax.
Wait, HP won't require PayPal only payment?
HP Conspiracy Theory: Apotheker the Fall Guy
Conspiracy theory mentioned by someone else in the same thread:
OH at Apotheker's job interview…

HP Board: We think we want to focus on the enterprise, but we need a hatchet man to cut the consumer stuff. We know it's going to be unpopular and destroy your reputation, and we're going to fire you for doing that. We're willing to pay you about $30M for your trouble. You in?

Apotheker: Hell, yeah.
ObamaPacman: although Apotheker got paid $25 million for 11 months of failure, the conspiracy theory is not realistic. Why?
HP could have stopped TouchPad development and save itself hundreds of millions of dollars and tons of embarassement
HP should have fired its PR department, if its board believes HP CEO needs better communication skills.

Related Posts