How Many Days Ahead Will Press Invites be Sent for Apple's Next Big iPhone 5 Media Event
Will Apple hold iPhone 5 event on or off campus? How long ahead Would Apple send out press invites? Let's try to extrapolate with historical data.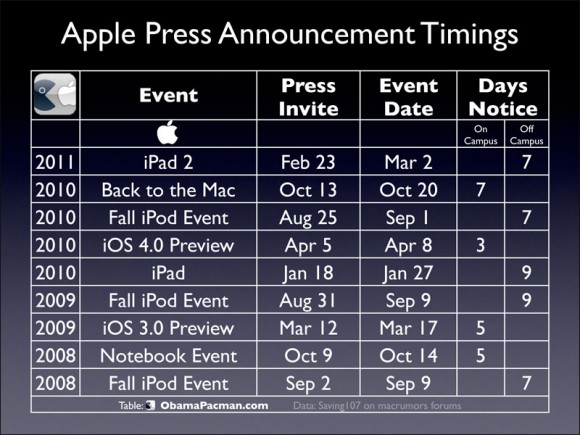 On how numbers of days before the iPhone 5 event before Apple sends invitations to the press, Saving107 wrote on macrumors forums on his observations of previous Apple press events:
Recently, the average has been to send out invites 7 days prior, but Apple can go and has gone as low as just 3 days notice.
Apple on campus vs. off campus events:
If you notice when the Event is on Campus, the time frame of when the invitations go out is less than if the Event were to be off-site.
OP sorted the media invite lead times and added missing years, and fixed an event name:
Off Campus Apple Events: 7 to 9 Days
These happen at Yerba Buana Center for the Arts, San Francisco, CA
2011 iPad 2: Invite Feb 23rd – Event Mar 2nd = 7 days
2010 Fall iPod Event: Invite Aug 25th – Event Sept 1st = 7 Days
2010 iPad: Invite Jan 18th – Event Jan 27th = 9 Days
2009 Fall iPod Event: Invite Aug 31st – Event Sept 9th = 9 Days
2008 Fall iPod Event: Invite Sept 2nd – Event Sept 9th = 7 Days
On Campus Apple Events: 3 to 7 Days
2010 Back to the Mac: Invite Oct 13 – Event Oct 20th = 7 Days
2010 iOS 4.0 Preview: Invite Apr 5th – Event Apr 8th = 3 Days
2009 iOS 3.0 Preview: Invite March 12th – Event Mar 17th = 5 Days
2008 Notebook Event: Invite Oct 9th – Event Oct 14th = 5 Days
OP: iPhone 4 event took place off campus at WWDC, but the Apple Worldwide Developers Conference was announced on April 28, 2010 and scheduled for June 7. It's not included in the table due to it's not just a media event.
Apple Fall iPhone 5 Press Event Invite Lead Time
ObamaPacman explains: The history tells us in general, for the iPhone 5 Apple Keynote to take place on rumored October 4, 2011, the invites should be out around these dates:
Off Campus: Sunday September 25 to Tuesday September 27
On Campus: Tuesday September 27 to Saturday October 1
Apple won't send an invite out on the weekend, so invites should be out this week. Here are the expected dates for sending invites (unless new Apple CEO Tim Cook decides to change the tradition):
Off Campus: Monday September 26 to Tuesday September 27
On Campus: Tuesday September 27 to Friday September 30
Although the iPhone 5 Keynote is rumored by All Things D to take place on Apple Cupertino headquarters at 1 Infinite Loop, there is a hidden event scheduled on October 4 at Yerba Buana Center for the Arts: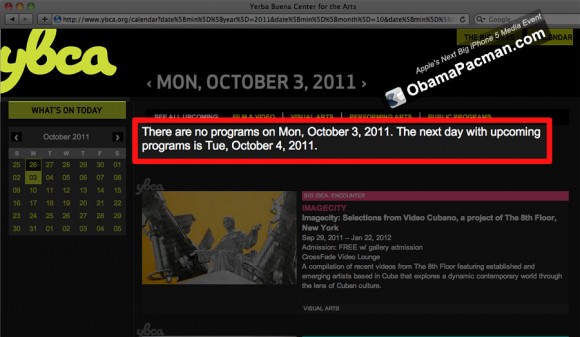 Well, no matter when the new Apple media event happens, and whether Apple introduces iPhone 5 or iPhone 4s, one thing is for sure. Attempts will be made by OEMs such as Samsung, to copy the new iPhone.

Related Posts