Google Buys Zagat Rated: iPhone iPad App Changes?
Google announced today that it bought restaurant reviewer Zagat.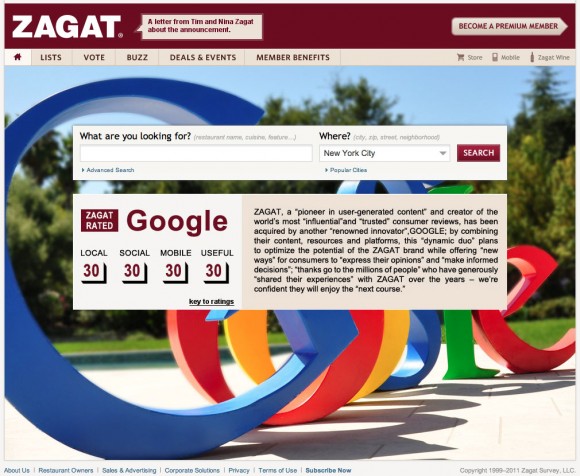 Google blog announced the Zagat purchase today:
Moving forward, Zagat will be a cornerstone of our local offering—delighting people with their impressive array of reviews, ratings and insights, while enabling people everywhere to find extraordinary (and ordinary) experiences around the corner and around the world.
Google kept the purchase price of Zagat a secret, in contrast to "openness" PR claims.
Zagat Universal App
Zagat is one of the earliest successful publications to create an iPhone app. They even have the vision to charge less for iOS version. (The universal Zagat app [App Store] costs $9.99, while its annual subscription costs $24.95.)
The Zagat App even has offline mode that keeps a database of restaurants near you. However, consider the Google purchase, the App will likely to be turned into an ad-based service.
As of August 03, 2011, version 4.0.4 of the Zagat app downgraded four Zagat guides (Shopping, Nightlife, Hotels, and Restaurants) down to restaurant only. Perhaps due to Google pressure?
Google Restaurant Record
In 2009, Google tried unsuccessfully to buy Yelp, a competing review company. After the failed acquisition, some claim that Google tried to kill Yelp and competing review businesses by publishing reviews on Google Places without permission.
Can Google maintain the quality and integrity of Zagat? John Gruber:
"Just what every restaurant wants", to be more "dependent upon Google".
New York Times recently reported a major problem that anyone can close any restaurant listed on Google, without human review or owner permission.
Perhaps Google would replace Zagat's human restaurant reviewers with Android robots that can be shut down easily by competitors?

Related Posts