Germany Court Upheld Apple Injunction Against Samsung Galaxy Tab
Samsung's iPad knockoff Android tablets of all sizes continues to lose in court.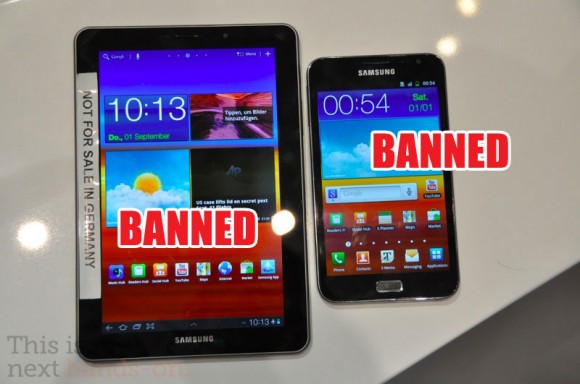 In August, Germany Court granted prelimary injunction ban against Samsung's Android tablet in EU, but then limit it to Germany due to jurisdiction issues. Apple just won the next step after another hearing on August 25.
Last Friday, Foss Patent notes of another major win for Apple:
Düsseldorf Regional Court once again upheld the preliminary injunction against the Galaxy Tab 10.1 based on the alleged infringement of a Community design (a design-related intellectual property right registered with an EU agency) held by Apple.

[The] outcome means that Samsung has exhausted its options with the Düsseldorf Regional Court on the fast track.
Samsung's options:
Higher Regional Court fast track ("couple of months")
Lower Regional Court at the end of the hearing (1 year, and could be appealed)
If Apple wins, it becomes a permanent injunction. If Samsung wins, then Apple will be liable for damages.
Foss Patents on the impact of the latest injuntion:
Apple is also seeking a preliminary injunction against the Galaxy Tab 10.1 (and other products) in the United States…

If the California-based court now also grants a preliminary injunction, it can't be accused of favoring its local hero over a foreign competitor after a court in a neutral country (in the sense that neither Apple nor Samsung are German companies) also decided to protect Apple.
The injunction seems to also apply to other sizes of Samsung's Android tablet. Apple also recently successfully removed Samsung's Galaxy Tab 10.1 and Galaxy Tab 7.7 from IFA trade show booth.

Related Posts