Catception: iPad Cats + Nyan Cat Song Inception
4 levels of inception vs. reality with iPad cats. Videos.
Catception: iPad Nyan Cat Inception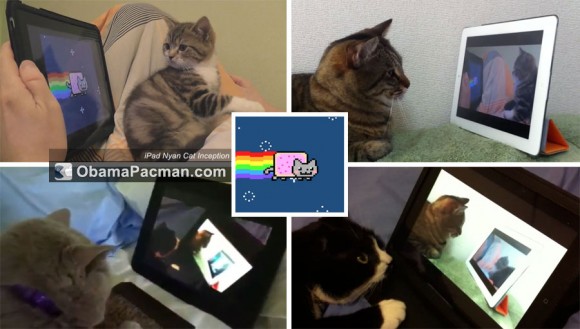 iPad users and their cats are awesome, creates iPad Catception. Video of a
cat watching
cat watching
cat watching
kitten watching
Nyan cat video
4: Purple Collar Gray Cat Watches Nyan Cat

YouTube, inspired by iPad Kitten watching Nyan Cat and the resulting videos.
OMG, what does it mean? Might turn into an Apple iPad Infinite Loop soon by the pace this is going. Additional iPad cat inception levels:
3: Panda Cat Watches iPad Nyan Cat
2: White iPad Cat Watches Nyan Cat
1: iPad Kitten Watching Nyan Cat
Nyan Cat Inception
What do you think? Is Nyan Cat the inception level or reality?
Nyan Cat Creators: Song + Game
Who made Nyan Cat? the creators:
The addictive Nyan cat song is created by Mac user.
Pop-tart cat animated gif by prguitarman, who is selling a t-shirt and Nyan cat universal game [App Store] for iPad, iPhone, and iPod touch. Free to download and play, $0.99 to unlock more features.
Video by YouTube user saraj00n (linked above), who used the gif and song with permission.

Related Posts