LaCie Released Thunderbolt Little Big Disk HD + SSD Portable RAID
Finally on sale: Lacie released its portable Thunderbolt RAID.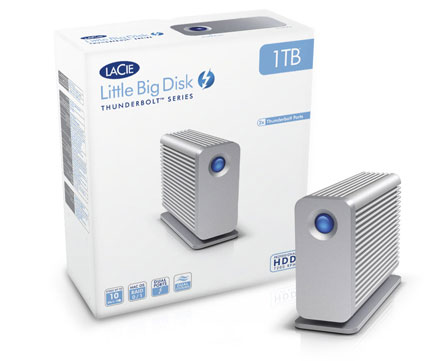 Thunderbolt LaCie Little Big Disk
The new Thunderbolt LaCie Little Big Disk features two 2.5″ laptop drives in RAID 0 or 1, Aluminum enclosure with heat sink, two Thunderbolt ports, and a power adapter. A DisplayPort display can be daisy chained from the drive. Weights 1.4 lbs / 650 g. Comes with 3 year warranty.
The portable RAID is released this week, available only at Apple Store at this time. Although few people were able to pick one up at their local Appl Store, OP has not seen one yet. Here they are at Apple Store:
The 1TB and SSD versions are listed to contain 2x "professional grade drives" (6Gb/s SATA for SSD), while the 2TV versions lists "2x hard disk drives". Capacity listed is the faster RAID 0 striped array. RAID 1 mirrored array, which duplicates data across two harddrives or two SSD would offer half the size. To saturate the full Thunderbolt 10Gb/s I/O, you need multiple daisy chained Thunderbolt drives.
Product availability is in flux, ObamaPacman has seen models disappear and appear. SSD version is said to ship in 1-2 months.
Thunderbolt cable (2.0 m) costs $49 and is not included.
Compatible with
Not Bus Powered
ObamaPacman's old Little Big Disk is bus powered by Firewire. However, Lacie literature:
Connect the included external power supply to a power outlet and to the Little Big Disk Thunderbolt Series (Fig. 2). The device will turn on automatically when it receives power.
Quite odd, considering that Thunderbolt is supposed to carry more power than Firewire. Lacie representative confirmed with ObamaPacman that it's not bus powered.
Stay tuned (subscribe) while OP finds you an accessory that allows the Thunderbolt LaCie Little Big Disk to work with a MacBook Pro without a power outlet.
Promise Pegasus Desktop Thunderbolt RAID
If you don't need the pocket size portability, Promise Pegasus sells multiple 3.5″ hard drive Thunderbolt RAID that supports RAID 0, 1, 5, 50, 6, 60, and 10.
The Promise Pegasus R4 weights 15.3 lb (6.9 kg) while the R6 weights 20.2 lb (9.2 kg).

Related Posts