Arstechnica Blogger Tests Productivity of iPad-Only Day
Can a blogger be productive by using only an iPad, and no Mac? Can he even survive?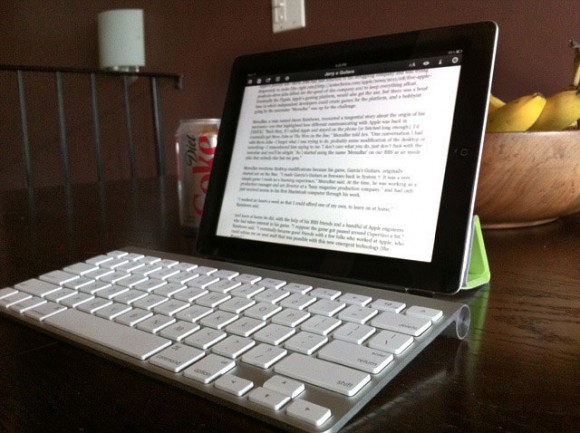 Preparation: iPad Apps
For his day without Mac, Jacqui Cheng mainly used these iPad Apps:
He used iPad 2 + Apple Smart Cover + Apple Wireless Keyboard (connects over bluetooth).
iPad Only Blogging?
So, does the iPad work in a professional setting with Movable Type-based CMS? Jacqui Cheng wrote about his experience in Masochist me? An Ars writer's iPad-only workday. Conclusion:
Working on a tablet made it more difficult to constantly monitor everything that happens in a day, but there was a tradeoff: it was significantly easier to be productive when actually writing. In fact, I produced slightly more the day I worked on the iPad than on a normal day, and I didn't miss any significant news—work-related or otherwise. I did feel as if I was somewhat disconnected from the world compared to my usual setup, but I wasn't—I just couldn't see everything at the same time, all the time.
ObamaPacman: iOS 5, with its improved notifications should make it even easier.
Keyboard Workflow Improvement Idea for iPad Blogging
Jacqui's suggestion for improvement? When using iPad with keyboard:
Command + Tab should switch to last used iPad App
ObamaPacman adds: bring up app switcher when holding Command+Tab without letting go, just like the Mac behavior
Writing Kit: iPad Blogging Research / Writing App
Writing Kit [App Store] "built for researching and looking up stuff" seems to be a great app for blogging. Features:
TextExpander snippets
"Learn about anything you come across within two taps. You don't even have to leave the current page."
Browse Instapaper unread items
Queue things you find interesting to view later
Website search with text results
Can email or share text, or generate HTML

Related Posts