Apple Thunderbolt Display: Multi Monitor Daisy Chaining Support
Apple Thunderbolt display compatibility. Daisy chaining: yes. But not for Mini DisplayPort. + Some Mac supports 3 external displays.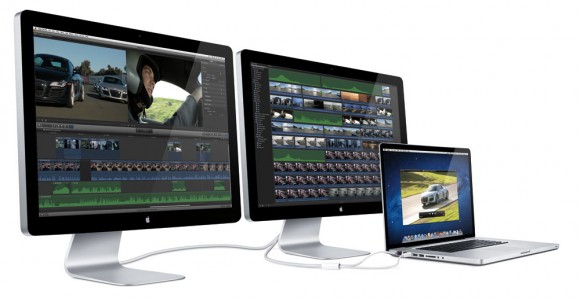 Apple Thunderbolt Display Support Document KB
Apple released a new knowledge base document about the now shipping Apple 27″ Thunderbolt Display and Mac support of multiple external monitors. Macrumors reports.
Apple Thunderbolt: How Many Supported Displays
The documents describes that select models of Apple computers cna run up to 2 Thunderbolt displays and up to total of 3 displays. Summary: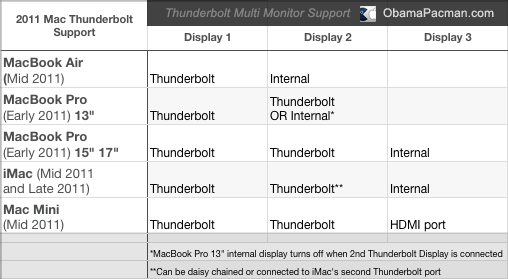 MacBook Air: 1 Thunderbolt Display
MacBook Pro: 2 Thunderbolt Displays, 13″ internal display will turn black with second TB display
iMac: 2 Thunderbolt Displays, either port or daisy chain
Mac Mini: 2 Thunderbolt Displays, HDMI can connect to another display for total of 3 external displays on this Mac
Note Apple mentions Late 2011 iMac. ObamaPacman will talk about this in the next article.
Mini DisplayPort Display, Thunderbolt Daisy Chain
Mini DisplayPort display can not be chained to TB displays.
There is of course some internet outrage about the lack of Mini DisplayPort chaining. But keep in mind, a computer can only attach only one Mini DisplayPort display, so nothing is changed with Thunderbolt. Apple did not "take away" any feature.
ObamaPacman lists potential options:
Sell old display and upgrade to daisy chain multiple displays with Thunderbolt port now
Write to Apple feedback, and see whether support could be added via firmware upgrade
Wait for upcoming Thunderbolt docks, which may or may not support Mini DisplayPort display
Tips: Apple Thunderbolt Display
Apple provides Thunderbolt Display performance tip when connecting fast storage devices:
For best performance while using Thunderbolt storage devices, connect the Thunderbolt display to the computer's Thunderbolt port first.

Related Posts