Apple Stock Hits Record High: $413.23
Today, Apple stock price reached highest in Cupertino technology company's history.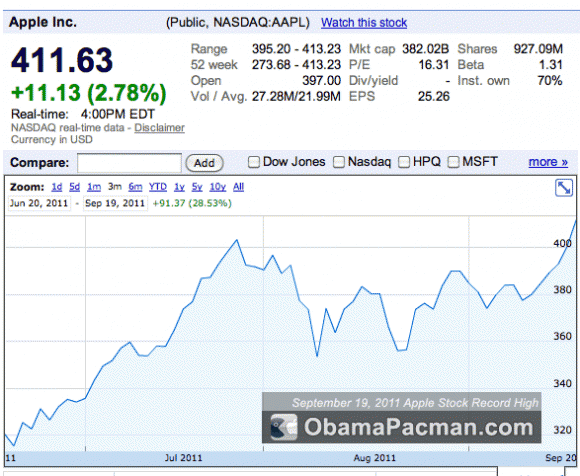 The previous record high of Apple was $404.50. Today, Apple reached high of $413.23. The market closed with Apple stock at $411.63. And again, Apple exceeded Exxon Mobile in market capitalization as the most valuable company in the world.
So much for the FUD that Apple is doomed without Steve Jobs. It appears that there is no doubt about ability of Tim Cook as Apple CEO.
Or that the Zune and Windows 7 phone based Microsoft Windows 8 (that won't be released for another year) will have any significant impact on Apple's business.
Market Capitalization
Market value of companies, in Billions of US Dollars:
382.02 Apple
358.34 Exxon Mobile
227.97 Microsoft
176.51 Google
45.52 HP
27.13 Dell
22.30 Nokia
11.24 Motorola
6.47 Lenovo
Basically, Apple is worth more than Google and most the other phone and PC makers combined.

Related Posts