Apple Leaked Late 2011 Thunderbolt iMac?
Apple Thunderbolt display support knowledge base document lists Two Thunderbolt displays for iMac (Mid 2011 and Late 2011). Typo or product leak?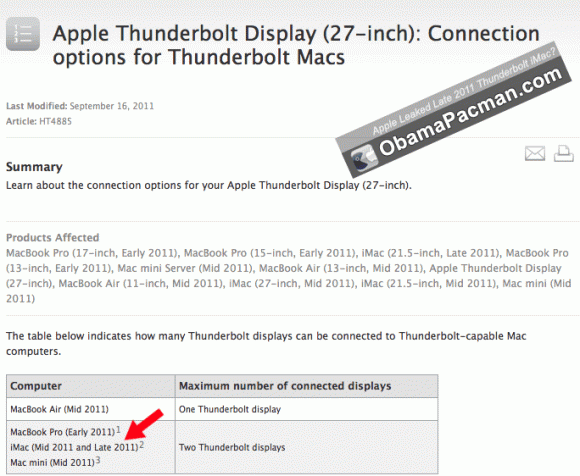 Mid 2011 Thunderbolt iMac
The current "mid 2011″ Thunderbolt iMacs with core i5 and i7 were released in May, 2011. But the Apple Thunderbolt Display support notes mentioned of "late 2011″ iMac. So is Apple upgrading iMac just months after a new product release? Not quite.
Late 2011 iMac
It turned out that Apple has already quietly released a "late 2011″ iMac in August. The $999 Apple Core i3 3.1 Ghz 21.5-Inch iMac is education customers only and not available for individuals. However, the specs says MiniDisplay Port, which menas no Thunderbolt.
So how could a late 2011 education iMac with no TB port support Thunderbolt? It appears that the document has a typo, or perhaps there will be an iMac refresh? ObamaPacman expects the first.
Update: Apple removed the "late 2011″ iMac reference.

Related Posts