Samsung Italy Store Copies Apple App Store Icon [SameSung]
Samsung store in Italy reportedly copied Apple iOS App Store and Safari icons. Larger photo with EXIF + analysis by ObamaPacman.
Samsung Store, "Centro Sicilia" di Catania Italia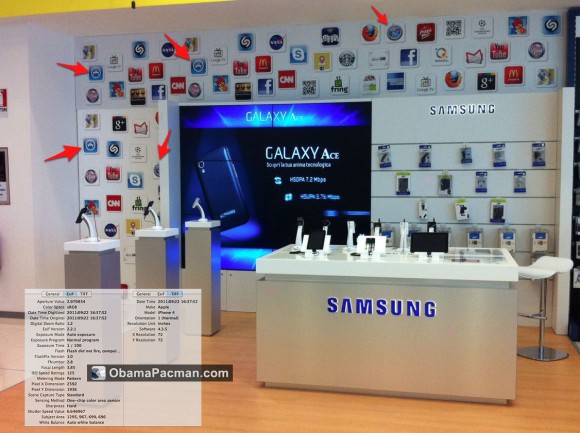 Samsung is being sued for "slavishly copying" Apple, with Galaxy Tab Android tablet banned in Germany and some Samsung Android phones banned in Netherlands due to intellectual property infringement.
Now, a Samsung store in Italy is supposedly copying Apple trademarked products again, unmistakably featuring 2 copies of Safari and 3 copies of App Store icons on its wall. Amplitube [App Store] exclusively available for iPhone, not Android are also on display.
This article will discuss:
Samsung copied Apple Store Sicilia location
Apple Best Buy "store within store" vendor control
Third party Euronics store display in background?
Apple Store Centro Sicilia
This Samsung Mobile Italia store is said to be located at Centro Sicilia Italy, as a store within a store within European electronics retailer Euronics.
Samsung store is located in the same mall development as Apple Store Centro Sicilia, which just opened today 10AM local time in Sicily (one of 7 Apple Stores opened this weekend): Catania, Centro Sicilia. Strada provinciale 54 – Località La Tenutella, Contrada Cubba, 95045 Catania.
Samsung store host, Euronics is listed by the Centro Sicilia mall as Prossima Apertura (opening soon).
Samsung Copied Apple Trademarked Icons?
So, did Samsung shamelessly copied Apple's trademarked icons?
Perhaps shady developers used Apple icons, and Samsung thought those are original Android apps? ObamaPacman: unlikely because the apps listed are all major brands, not some shady third party apps.
Maybe the store sells Apple products and is showing Apple's icons in the back? Nope. There's a firefox icon, which is Android only. The iOS Firefox Home [App Store] uses a different icon.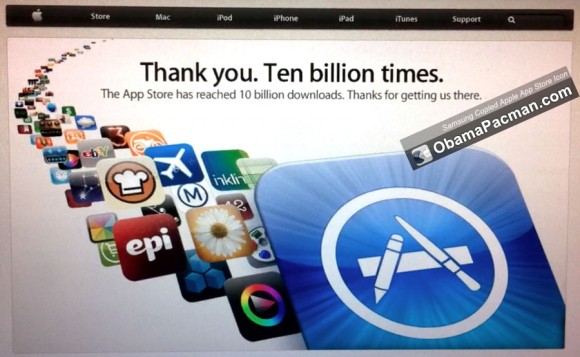 Apple has complete control over its store within the store within Best Buy, so it's likely that Samsung has the same control. Maybe Samsung found some images of Apple apps and slavishly copied icons?
Samsung Euronics Store Photo Source
But what's the source of the image? CNET, AllThingsD, and 9to5Mac posted it. Is it legit?
Some publications listed a certain SPAM blog as the source. (We're not listing the spammy site because it lists no source, stripped out photo EXIF, posted only low-resolution photo, on a site flooded with ads).
So ObamaPacman went out and found a larger photo on ANDROID iani. However, the fact that the photo is named foto-5.jpeg, AND it has no link to the official press release or photo source, probably means this site is not the original source of the article either. They did post a Samsung press release in full though.
Third Party Euronics Store Display, not Samsung Italy?
But maybe it's a third party store display made by Euronics that Samsung didn't know about? Here's an excerpt from a Milan Italy, September 23 press release:
"Nell'acquisto di uno smartphone o di un tablet, i consumatori sono sempre più attenti a elementi quali il design, la multimedialità e la semplicità d'uso, senza intaccare le performance", ha commentato Carlo Carollo, direttore marketing di Samsung Mobile.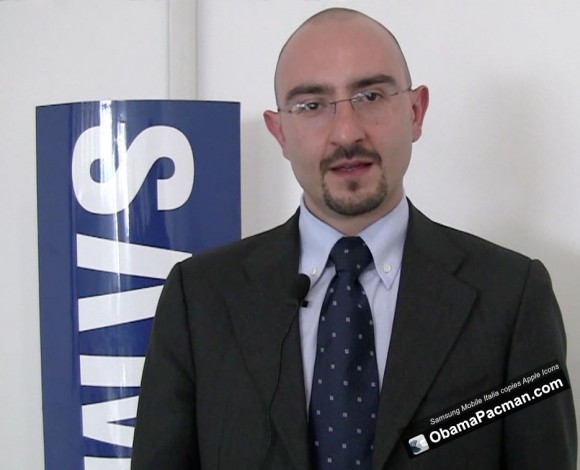 Carlo Carollo is Marketing Director Telecom & Network Division of Samsung Electronics (Italy?). OP contacted Carollo for comment, but have not heard back at this time.
Conclusion
This is not the first time a major company messed up, last year, Verizon used iPhone graphics on Android phones.
Well, despite the facts, Samsung and fandroid are probably already saying:
"They are obvious representations of an app store and a browser." or
"Samsung didn't copy Apple. Instead, Samsung copied the design from a low resolution YouTube clip of 2001, a Space Odyssey."
Samsung Press Release
Here's the full press release about the store from Samsung Italy:
Milano, 23 settembre 2011 – Samsung Mobile ha scelto il punto vendita Euronics del nuovissimo centro commerciale "Centro Sicilia" di Catania per inaugurare il suo Shop in Shop dedicato al mondo degli smart device, dove saranno protagonisti i consumatori, che potranno toccare con mano gli smartphone più eleganti e performanti e i tablet più innovativi firmati Samsung.

Situata all'interno di una delle più importanti mete dello shopping siciliano, questa esclusiva isola "mobile" si avvicina ai clienti attraverso un'affascinante postazione interattiva, che propone i modelli top di gamma dell'offerta smart device Samsung Mobile – dal ricercatissimo smartphone Galaxy S II al nuovo Galaxy Tab 10.1 – elegante per un'esperienza ancora più ricca e coinvolgente.

Inoltre, un allestimento all'insegna della multimedialità che include monitor TV, illustrerà nel dettaglio i prodotti e le novità in arrivo, garantendo un colpo d'occhio immediato sui dispositivi disponibili e uno sguardo al futuro della tecnologia mobile.

Lo Shop in Shop Samsung nasce per aiutare i consumatori nella scelta e nell'acquisto del loro dispositivo mobile ad alto livello tecnologico. La possibilità di toccare con mano i prodotti – scoprendone le performance e maturando un'esperienza di fruizione diretta – e la presenza di personale specializzato Samsung – in grado di consigliare i visitatori nella scelta del modello più adatto ai propri gusti, abitudini ed esigenze – rappresentano un vero valore aggiunto a questo punto vendita.

"Nell'acquisto di uno smartphone o di un tablet, i consumatori sono sempre più attenti a elementi quali il design, la multimedialità e la semplicità d'uso, senza intaccare le performance", ha commentato Carlo Carollo, direttore marketing di Samsung Mobile. "Nei nostri Shop in Shop e mediante le nostre iniziative di vendita raccontiamo i nostri prodotti in sintonia con le esigenze e le preferenze dei clienti".
On September 20, Apple announced its Centro Sicilia store, opening on September 24.
On September 23, Samsung announced a future store there. Coincidence?

Related Posts