Amazon Releases 7″ Color Kindle Fire [Review: Good, Bad, Ugly]
Today, Amazon unveils three new multi-touch Kindle models, with 6-inch B&W e-ink Kindle touch and 7-inch color Kindle Fire. Priced $99, $149, and $199. Specs and OP analysis of what's wrong with the locked down Android tablet.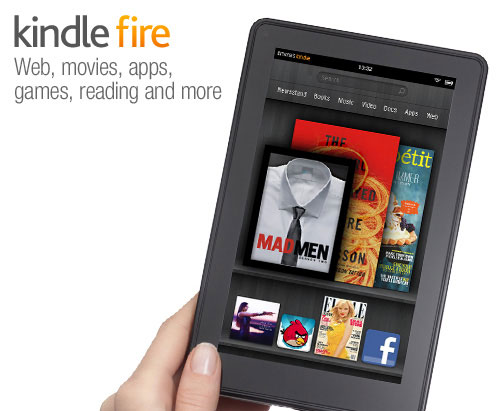 Kindle touch, Kindle touch 3G, Kindle Fire
Here are the three new multi-touch Kindle introduced by Amazon CEO Jeff Bezos:
B&W E-Ink 6″ Kindle touch, $99 ($139 without screensaver ads)
B&W E-Ink 6″ Kindle touch 3G, $149 ($189 without screensaver ads)
Color 7″ Kindle Fire, $199 (no 3G)
You can pre-order the 7″ Kindle Fire for $199. The US only device ships November 15, 2011.
Considering Kindle touch is just a touch screen version of old black and white slow reacting e-ink device (and comes with "experimental browser"), it's no comparison with iOS devices. So we'll look into Kindle Fire. Specs:
7″ display, IPS, with lower pixel count than iPad
8 hours battery reading, 7.5 hours battery video playback with wifi turned off, with no mention of battery life when streaming the content as advertised
14.6 ounces
7.5″ x 4.7″ x 0.45″ (190 mm x 120 mm x 11.4 mm)
No mention on how to load user content, although it supports MP3, MP4, and non-drm AAC
Amazon Silk cloud-accelerated browser
Amazon Appstore (not Apple App Store) with limited selection of Android titles only in the "thousands"
WiFi (no ad-hoc, we'll talk about this later)
Access to Amazon bought books and music
$79 per year Amazon Prime members gets streaming of movies and TV shows
Amazon is still selling the slow black and white e-ink devices that requires button mashing input:
7″ Color Kindle Fire: Good
What's good about Kindle Fire:
Amazon Silk browser. Supposed to make web browsing faster by offloading site and Adobe Flash rendering to Amazon cloud servers. (It's not new: Opera Mbile and various "Flash" for iPad and iPhone has been doing this for years.)
No Google tracking (has Amazon tracking instead)
$79 per year Amazon Prime gets unlimited TV and movie streaming on "10,000″ titles. However, keep in mind Netflix recently had to raise its price to $96 per year for its video streaming services. And that's with economy of scale with 12? million Netflix subscribers. (Amazon cannot keep it at the $79 per year pricing for long, not for the same content anyway. Considering that Amazon Prime causes Amazon to lose money due to the unlimited two-day shipping on products.)
Kindle Fire: Bad + Ugly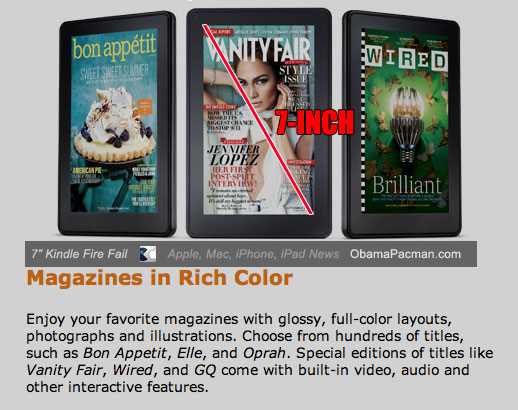 Some of what's wrong with the Kindle Fire:
7″ display: Amazon advertises that you can read magazines on Kindle Fire. But have you ever read a 4″ x 7″ magazine? Similar to the failed 7″ Samsung Galaxy Tab pockatable train wreck and also the 7″ BlackBerry Playbook, it's unlikely to work well for certain type of content.
No mention of how to load your own music or movie (hopefully not through emailing)
Developers has to submit software to Amazon's closed Appstore, where Amazon can change product prices to zero and gives a revenue share of 0. Most developers are unhappy with the unilateral arrangement.
Only "thousands" of titles in Amazon "Appstore", which tries to confuse customers by naming it close to Apple's successful "App Store".
Runs locked down, customized of Android (unlikely to get security updates in any timely fashion)
No Google apps (none mentioned)
No "open" Android marketplace software
No camera or video recording
Copies 8GB storage of the 4 year old 2007 iPhone. Amazon lists that it holds "80 apps" or "10 movies". Wow! Considering Amazon says it's perfect for on the go:
Kindle Fire "On-the-go"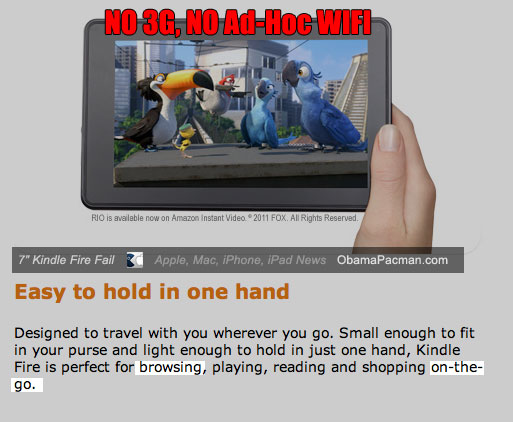 Amazon Kindle Fire product page
:
"Kindle Fire is perfect for browsing, playing, reading and shopping on-the-go."
Amazon's PR department doesn't know that Kindle Fire has no 3G. In addition, although it has WiFi, it lacks ad-hoc network support (often used by tethering software to share internet from mobile phone):
"Does not support connecting to ad-hoc (or peer-to-peer) Wi-Fi networks"
It has no bluetooth, a more efficient way for mobile phones to share internet connections. Maybe Amazon means "on-the-go" at your house on the toilet?
Kindle Fire 7″ Tablet Conclusion
So, just about everything Apple haters said about the iPhone and iPad is true for the Amazon Kindle fire:
Walled garden
No removable battery
No customization
No SD card
No stylus
Not open! Google openness rules!
In addition, Apple devices supports the following, but Amazon's Kindle Fire also features:
No Bluetooth
No Wireless headphone support
No Volume buttons (needs multiple steps to change audio volume)
No Microphone
No Accelerometer? (None mentioned yet, although the more expensive 2010 Kindle DX has it)
No App Store (not Apple's original version with over 300,000 titles)
No loading your own music?
No loading your own videos?
The not yet shipping 7″ Kindle Fire costs $199. First gen Apple iPad with 10 hour battery, 10″ display, the real App Store, costs $299 refurb from Apple.

Related Posts