Adobe Air Limits Choice: Machinarium iPad 2 Only
Openness fail for Adobe Air ported application. High hardware requirements to display 2D graphics. Works on iPad 2, not for Android or BlackBerry at this time.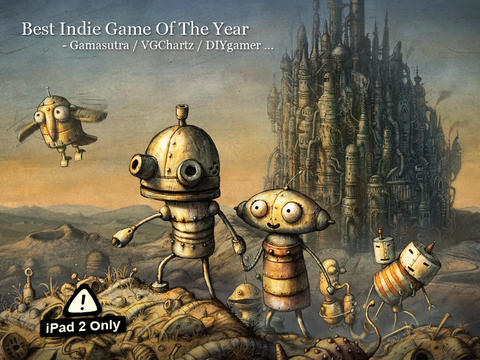 Machinarium iPad 2 Only
Machinarium, a great award winning adventure puzzle game just got ported to iPad: [$4.99 on App Store]. Adobe evangelist Lee Brimelow is proud that the game is written in Adobe Air and exported straight to iPad.
However, the game is iPad 2 only (v 1.0 released September 13), differing from Adobe's dream of write once, run everywhere.
Why did Adobe Air limit the supported device to exclude first generation iPad? Daring Fireball explains that it's due to resource requirements of Adobe Air, which required a top of the line device to run 2D animation:
The game requires an iPad 2 for performance reasons, even though the animation is 2D, not 3D.
On stability of Adobe Air:
The game's description on the App Store includes this: "NOTE: If the game crashes, RESET your iPad, the problem does not have to be on our side!" Such instructions are not unique to games built using Adobe Air, but still, it doesn't speak well regarding the game's resource consumption.
Probably bad for battery life too.
3D Games in iPad and iPad 2
In contrast, when an app is written natively in Cocoa Touch, it opens up a larger audience. These games work on both first gen iPad and iPad 2, looking great at the same time:
Award winning World of Goo [App Store $4.99 Universal] even added multi-touch to its iPad game port! Works perfectly on iPad and iPad 2.
Real Racing 2 HD [App Store, $6.99] didn't have problem outputing 3D graphics in HD on iPad
Infinity Blade [App Store, $5.99 Universal] looks great on all supported devices.
Even though Adobe touts openness for its products, the game is NOT ported to Android or BlackBerry phones or tablets. Probably due to resource requirements of the game combined with BB and Android too slow for gaming compared to iPhone or iPad.

Related Posts