Getting Ready for iPhone 5: 4 Online + 7 Retail Apple Stores Opening Around the World
This week: new Czech Republic, Hungary, Poland, and United Arab Emirates online stores + new Hong Kong, Shanghai, New Haven, Sydney, Vancouver, Paris, and Sicily retail Apple Stores.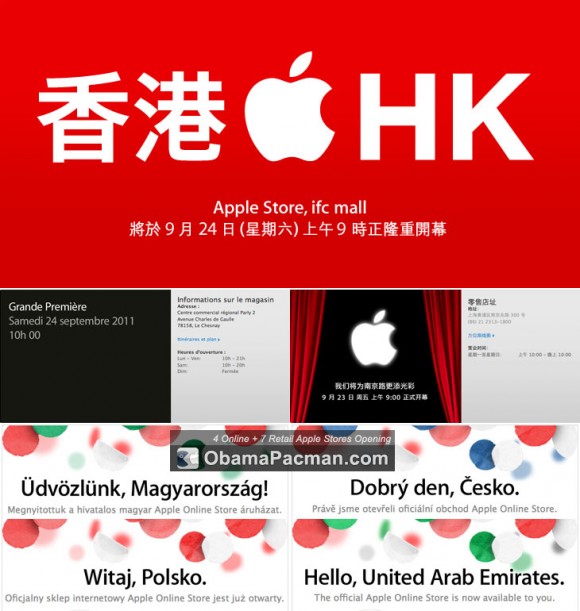 Normally, the Apple Store openings are staggered, this week is an unusual exception. What does it mean? Apple is launching these stores to get them up and running before launching the highly anticipated iPhone 5 and / or iPhone 4S.
ObamaPacman: it's too late for an Apple special event this week to announce a new product. (Apple would need to send invites ahead of time so the press can make travel plans to San Francisco / Cupertino.) Thus, it's likely that Apple will announce iOS 5 availability this week, and then launch the highly anticipated iPhone 5 / iPhone 4s in a week or two.
7 New Apple Store Opening This Weekend
Hong Kong (Hong Kong) will get its first Apple Store there in a massive 15,000 square foot space in the IFC Mall. Macrumors reports the Hong Kong Apple Store "spans two levels while displacing ten other retail stores that formerly occupied the space". Grand opening 9AM Saturday September 24. Apple also offers online Hong Kong Apple Store.
Nanjing East (Shanghai, China), Apple's third Shanghai store and fifth store in China, will become the largest in the country. MR reports: "The Nanjing East store will span five levels: a ground floor dedicated to sales, a second floor dedicated to support and training, and three additional floors devoted to business customers and office space for Apple's Chinese operations." Grand opening 9AM Friday September 23.
Five more Apple Store openings 10AM Saturday, September 24 (via):
Apple fans can go to an Apple Store launch for its atmosphere and limited edition launch t-shirt. (And buy a few things too). Apple Store also contains the market leading Genius Bar, a place to get technical support.
4 New Online Apple Stores
New online Apple Stores already opened this week in these countries (via):
New United Arab Emirates (UAE) store is significant. Having an official online Apple Store in the oil rich region would ensure grey market importers can't charge extremely high markup to iPhone, iPad, iPod and Mac to Apple customers. Apple now offers online stores for 37 countries. Some stores supports multiple languages.
Top illustration made by ObamaPacman.

Related Posts