Zombie Gunship AC-130 Shooter for iPad + iPhone
Fricken fun! Defend your human buddies from zombies from AC-130 gunship with thermal vision (think Call of Duty 4 level).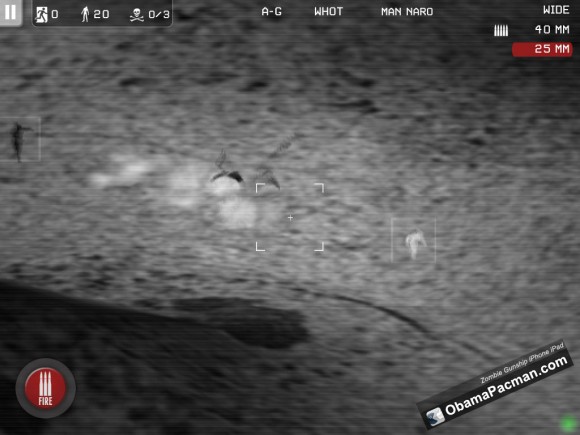 Video: Zombie Gunship Review
Download Zombie Gunship [$0.99 right now] Universal app for iPad, iPhone, and iPod touch.
Zombie Gunship is awesome fun if you can't get enough of the AC-130 level from COD4 Modern Warfare. Except your plane has unlimited fuel + unlimited ammo, and you are on survival mode with unlimited zombies.
Fire 25MM Gatling gun, 40MM Bofors gun, and 105MM Howitzer from the comfort of your airplane
Shoot zombies, protect civilians, earn coins, and upgrade your weapons
The challenge is to not kill the humans running toward the base, and you'll get tougher zombies as you progress
Created by the maker of great tower defense game Tower Madness. They are also working on syncing Zombie Gunship progress across iOS devices! ObamaPacman expects the feature will be released with the launch of iOS 5 and iCloud in the fall.
Video review by IpodAppsEverywhere (WTF capitalization fail).

Related Posts