"Where To", the iPhone Restaurant + POI Finder App [History + Sale]
Developer of Where To, iPhone point of interests (POI) finder app, published their App Store sales and development history from 2008 to 2011. + SALE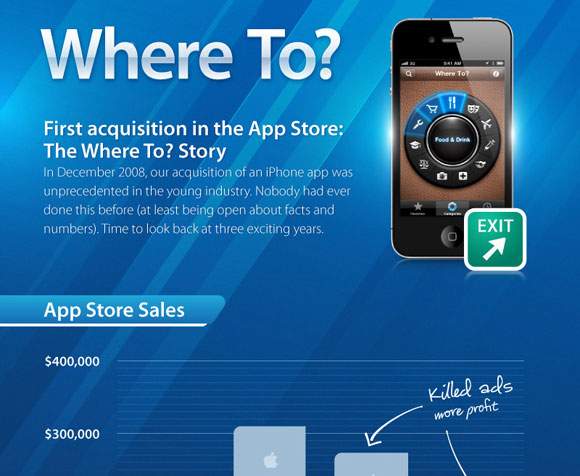 Its current developer, FutureTap, acquired Where To 2.5 years ago from taptaptap from $70,000. See full infographics below.
Where To is a perfect App for travel, features include:
Find points of interest: restaurants, parks, and local businesses (Food & Drink, Entertainment, Travel & Transportation, Health & Medical, Attractions, Shopping, Services, Public Institutions, Education, Organizations, Emergency)
Shake To Surprise (example: random steakhouse)
Display of opening hours
Open directions in navigation app you want
Share your destination (say a restaurant) with your friends
Augmented Reality, $0.99 in app purchase
Download Where To [App Store], currently on sale for $0.99 (66% off for until Sunday).
Infographics: Where To iPhone App

[Where to on App Store]
Video: Where To iPhone App Demo

Related Posts