United Airlines + Continental Deploying 11,000 iPad as Pilot Electronic Flight Bag
United Continental eliminating heavy paper manuals to welcome the iPad future, with real time electronic charts for all pilots to improve efficiency and safety.
United Airlines + Continental Apple iPad Tablet EFB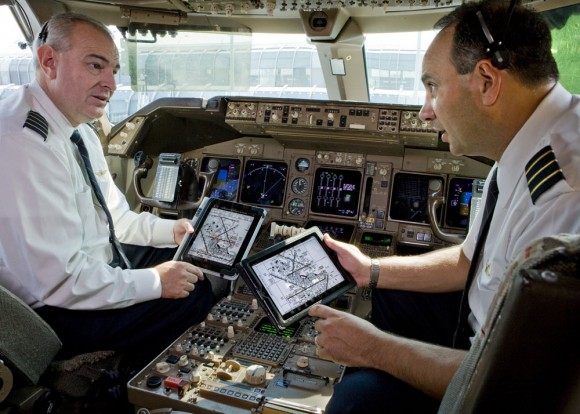 Today, United Airlines + Continental announced (via macrumors) a full transition to Apple iPad tablet:
United Continental Holdings, Inc. (NYSE: UAL) today announced that it is converting to paperless flight decks and deploying 11,000 iPads to all United and Continental pilots. The electronic flight bags (EFB) replace paper flight manuals, and as a first for major network carriers, provide pilots with paperless aeronautical navigational charts through an iPad app. Distribution of iPads began earlier this month, and all pilots will have them by year end.

"The paperless flight deck represents the next generation of flying," said Captain Fred Abbott, United's senior vice president of flight operations. "The introduction of iPads ensures our pilots have essential and real-time information at their fingertips at all times throughout the flight."
Deploying Apple iPad will also save 16 million sheets of paper and 326,000 Gallons of jet fuel a year:
Each iPad, which weighs less than 1.5 pounds, will replace approximately 38 pounds of paper operating manuals, navigation charts, reference handbooks, flight checklists, logbooks and weather information in a pilot's flight bag. A conventional flight bag full of paper materials contains an average of 12,000 sheets of paper per pilot. The green benefits of moving to EFBs are two-fold—it significantly reduces paper use and printing, and, in turn, reduces fuel consumption. The airline projects EFBs will save nearly 16 million sheets of paper a year which is equivalent to more than 1,900 trees not cut down. Saving 326,000 gallons of jet fuel a year reduces greenhouse gas emissions by 3,208 metric tons.
In addition to fuel savings, pilots can access the reference material more "quickly and efficiently" than thumbing through 12,000 pages of paper. Updates to electronic flight materials can also be downloaded immediately by pilots, instead of waiting for paper updates to be printed and distributed. iPad EFB will also increase safety: "by eliminating bulky flight bags loaded with paper, pilots will have less to lift and carry through airports and onboard the aircraft, reducing the risk of injury while on duty."
UA will use the Jeppesen Mobile FliteDeck iPad App [App Store], which is free but required a paid subscription. All airlines are required to have updated paper charts that are also obtained through subscription, so electronic subscription for iPad is not an extra cost.
The US Federal Aviation Administration (FAA) approved Apple iPad as electronic flight bags earlier this year. Various airlines are currently testing or deploying Apple iPad as EFB or to improve customer service:
But are the Apple iPad used only for "easy" commercial flights? Not exactly. Case in point, US Marine Corps + Navy use iPad in combat missions.
Photos courtesy of United Continental

Related Posts