Times of India Advertises Android Froyo Fake iPhone 4
India's leading newspaper, The Times of India, recently published this fake iPhone 4 ad from TVC Skyshop.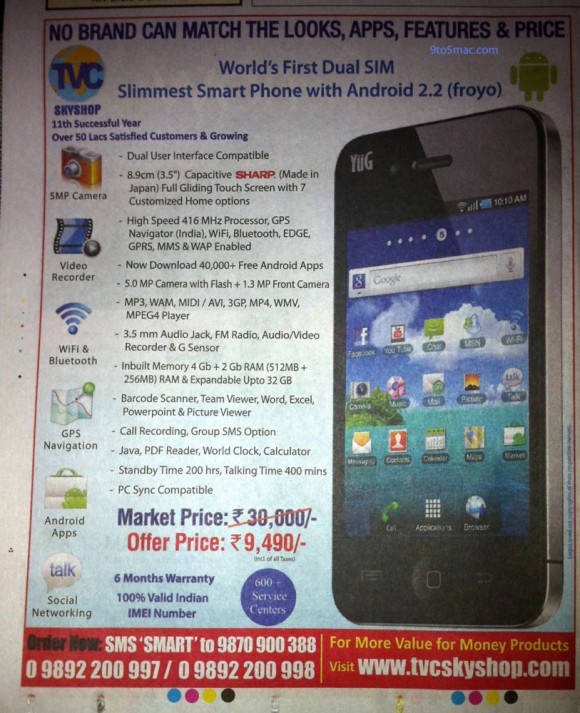 Image via 9to5Mac.
ObamaPacman reaction on this Indian Android phone ad FAIL:
"No brand can match the looks, apps, features & price": what a sack of lies made to fool Android users. Apple App Store is the undisputed market leader. The phone is also made to look like an iPhone 4.
"High Speed 416 MHz Processor" that's the same speed as the 2007 iPhone, not even close to that of Apple iPhone 4.
"MP3… MP4, MPEG4 Player" so it doesn't have player for MP3 and other formats?
"Inbuilt Memory 4Gb + 2Gb RAM (512MB + 256MB) RAM": Not only does it use technically confusing Gb (not GB), it has a whole 512MB of storage and 256MB of RAM. Good luck getting the slow Android software UI rendering to work on that.
"Word, Excel, Powerpoint": Microsoft does not make mobile software for Android. The third party office 'compatible' software are mostly difficult to use. The snail slow 416 MHz processor will surely make it very pleasant to use. NOT.
"Java": Google engineer confirmed that Android uses Oracle Java, without license.
Lack of "3G" on the ad. This Android phone is limited to 2G (back to 2007 much?).
The price, 9490 Indian Rupee (INR) is $210 US dollars. A 2007 iPhone would work better than this Android knockoff.

Related Posts