Steve Jobs' 313 Apple Patents
Steve Jobs, Apple's hands on CEO known for his attention to detail, is credited as inventor in 313 USPTO patents. Includes Apple Store glass stair case!
Steve Jobs, Hands On CEO, Inventor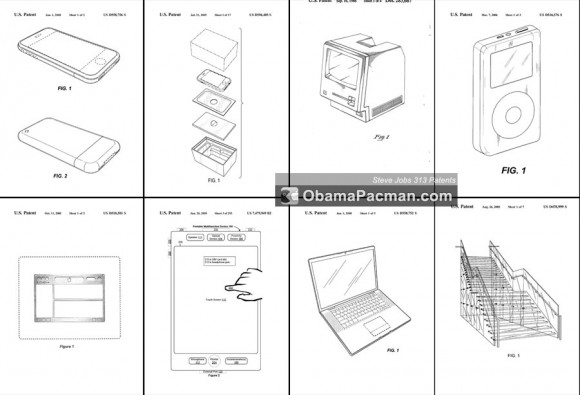 On Apple co-founder's legendary hands on approach, New York Times:
Mr. Jobs's say over the minute details of Apple's products is legendary in Silicon Valley. A look at the patents that carry his name, for these products and others, offers a glimpse into the range of his influence at Apple. And it paints a picture of a roll-up-your-sleeves chief executive whose design choices reached into every corner of the company…

Mr. Jobs appears as the principal inventor or as one inventor among several on 313 Apple patents. Most are design patents that cover the look and feel of a product, rather than utility patents, which may cover a technical innovation like a software algorithm or computer chip.

The patents range from 1980s to present, including early Macintosh design, iPod, iOS devices (iPhone, iPod touch, iPad), laptops, iMac, product packaging, Apple Store glass stair case, keyboards and mice, monitors, Macintosh operating system (user interface elements in Mac OS), NeXT, power adapter, and Apple TV.
In contrast to founders of other large tech companies, Steve Jobs' 313 patents beat them hands down:
Just nine Microsoft patents carry the name of Bill Gates, who was a co-founder of the company and its chief executive for more than two decades before stepping down in 2000. And little more than a dozen Google patents carry the names of co-founders Larry Page and Sergey Brin, according to a search of the United States Patent and Trademark Office Web site.
On Steve's collaboration with Jony Ive, head of Apple industrial design, Macrumors reports:
More than 200 of the patents attributed to Jobs also list Apple design guru Jonathan Ive, indicating the close collaboration between the two in creating the vision for Apple's products.
Illustration with ObamaPacman selection of some of the Steve Jobs patents: original Mac, current Apple MacBook Pro laptop, iPod, iPhone, Apple packaging, iTunes, and touchscreen user interface.
Collection of the Steve Jobs patents can be viewed on an NYT interactive feature.

Related Posts