Microsoft Rebuts Google's Novell "Patent Attacks Android" Statement
Microsoft General Counsel calls Google's bluff. Was the Google executive caught in a lie? *** Update x3 ***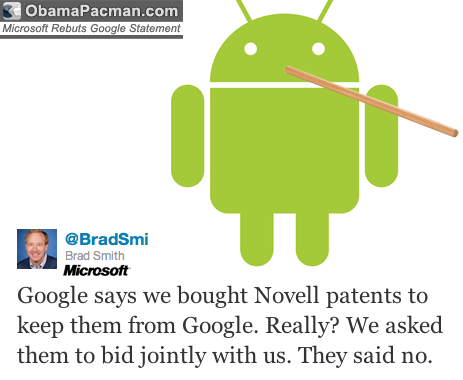 Google "When Patents Attack Android" PR vs. Reality
Oh snap, Google executive's "When Patents Attack Android" cry might be based on a false premise.
Daring Fireball revealed that Brad Smith, Microsoft General Counsel and Senior Vice President, Legal and Corporate Affairs wrote:
Google says we bought Novell patents to keep them from Google. Really? We asked them to bid jointly with us. They said no.
Google refused to join Microsoft and Apple in an joint bid of the Novell patents. Instead, Google tried to bid for Nortel (not Novell) patents by itself. ObamaPacman: It seems that Google is crying now because it wanted the whole patent pie for itself but lost.
Update: Frank Shaw, Microsoft Corporate Vice President, Corporate Communications tweeted an email between (former?) Google general counsel Kent Walker and Brad Smith (LCA) on buying Novell patents: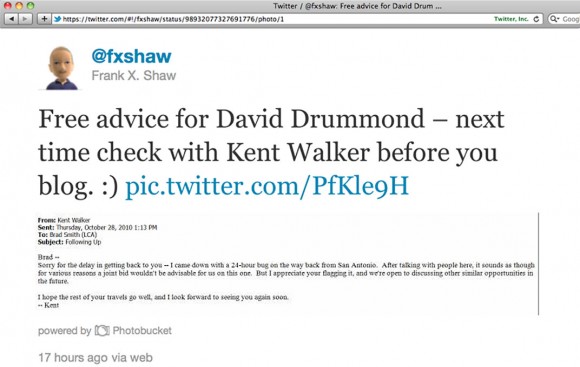 Update 2: Google has confirmed the Microsoft "gotcha!" by updating its blog post:
Microsoft's objective has been to keep from Google and Android device-makers any patents that might be used to defend against their attacks. A joint acquisition of the Novell patents that gave all parties a license would have eliminated any protection these patents could offer to Android against attacks from Microsoft and its bidding partners.
ObamaPacman: Basically, Google didn't bid on Novell patents because Google is not open to sharing. AKA, when jointly owned, Google cannot use the patents to its own advantage.
Update 3: Microsoft's @fxshaw fires back with one, two, three, four.
Let's look at what Google does not dispute in their reply.

We offered Google the opportunity to bid with us to buy the Novell patents; they said no.

Why? BECAUSE they wanted to buy something that they could use to assert against someone else.

SO partnering with others & reducing patent liability across industry is not something they wanted to help do.
Google does not deny that it secretly explored potential purchase of patents on its own with Novell.
Illustration by OP. Yes, the antennas are intentionally made angular to create the mad Android Pinocchio.

Related Posts