iPhone Hackers Comex + GeoHot Won Pwnie Awards 2011
Two big names in iOS jailbreaking community won hacker recognitions. Comex JailbreakMe + GeoHot Sony rap = winning.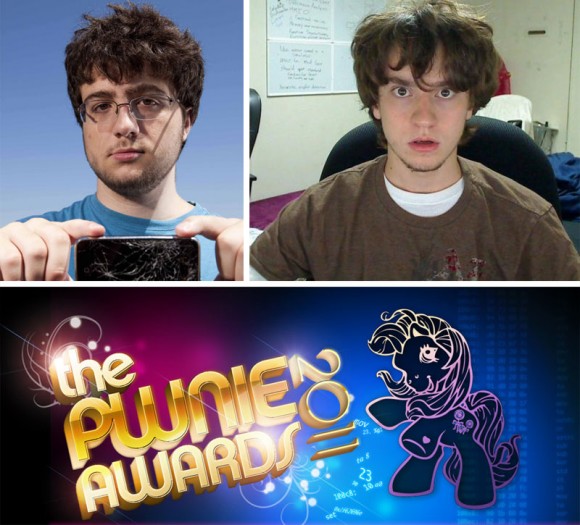 Comex left, George Hotz (GeoHot) right. Illustration by ObamaPacman
The Pwnie Awards is an annual awards ceremony celebrating the achievements and failures of security researchers and the security community.

The awards are given out once an year. The fifth annual ceremony will take place on Aug 3rd, 2011 in Las Vegas at the BlackHat USA security conference.
The PWNIES awarded Sony with "Most Epic FAIL" but what are some wins?
Comex JailbreakMe: Most Technically Sophisticated
Brown student and iOS jailbreaker Comex won PWNIE award for the "most technically sophisticated and interesting client-side bug" for the past year. The hack is used for white hat purpose by JailbreakMe, which helps people jailbreak their iPhone, iPad, and iPod touch. A patch for the bug was released in conjunction with the site.
PWNIES Best Song 2011: GeoHot Sony Lawsuit Rap Video
Geohot's Eminem rivaling "The Light it Up Contest" video won PWNIE for Best Song of the year. Lyrics include:
I shed a tear everytime I think of Lik Sang
But shit man, they're a corporation
And I'm a personification of freedom for all
You fill dockets, like thats a concept foreign to y'all
While lawyers muddy water and TROs stall
Out of business is jail for me
George Hotz (GeoHot) first became known in 2008 for his hardware and then software unlock for the iPhone, and later for iOS jailbreaking software such as Purplera1n, Blackra1n, and Limera1n. But when he released similar software to jailbreak Sony's PlayStation 3, Sony sued him.
The rap video is GeoHot's response to Sony's lawsuit. Best litigation response ever.
Instead of serving as a deterrent, the Sony lawsuit against GeoHot jailbreak (and possibly this song) banded hackers around the world including LulzSec to attack Sony. That leads to Sony's epic security fail with its properties around the world hacked. That forced Sony PlayStation Network to shut down for 2 months, affecting 77 million registered accounts.
Sony has since settled with GeoHot. Facebook has hired him earlier this year and George Hotz has been working at the social network since May 2011.
You can follow @Comex and see Geohot site + facebook wall. – @ObamaPacman

Related Posts