iPhone Design Obvious? Android Design Before & After Apple Smartphone
Google Android: from button phone to iPhone clone. From RDM analysis "Are Software Patents Evil?"
Android History Before After iPhone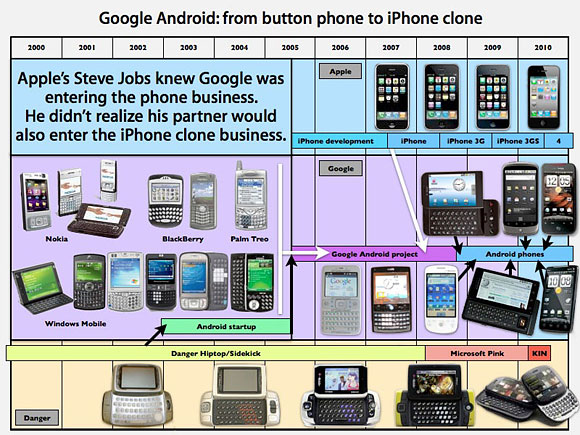 Although the historical record that showed Android originally copied existing button phones (such as the BlackBerry) before the iPhone was introduced was recently removed from the Wikipedia page on Android, Fandroids can't erase the truth. If the design is obvious, why didn't the original Android phones look anything like the iPhone?
Illustration from Daniel Eran Dilger's great article on Roughly Drafted: Are Software Patents Evil?
The article discusses possibilities of patents, from evil (patent trolls) to good (enables investments into innovation).
There's also analysis on how Google / Android is copying Microsoft's 90s strategy of ape and maim, and why patents are there to prevent Mounting View company's blatant disregard for intellectual property, this time around. Definitely read up the article at Roughly Drafted linked above.

Related Posts