iPhone 5 Virtual Keyboard + Holographic Projector Concept Video
Interesting iPhone prototype concepts by Aatma Studio. Bonus: REAL LIFE "holographic display".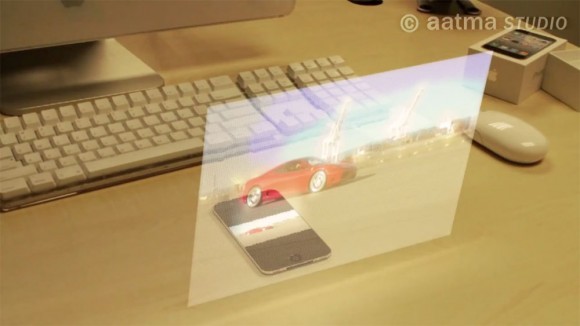 Video: iPhone 5 Virtual Keyboard + Concepts
The video is created by Aatma Studio, a 3D animation, digital content, VFX production studio in San Francisco:
Amazing Concept iPhone 5. This CG iPhone 5 has advanced iPhone features such as a sleeker iPhone design, a laser keyboard & holographic display all rolled into this iPhone 5 video…

Soundtrack "Movement Proposition" Kevin MacLeod (incompetech.com)
ObamaPacman's thoughts:
Thickness / thinness: currently the ultra thin iPod touch cannot fit the better camera in the iPhone. An iPhone this thin will be years away.
Virtual "laser" keyboard: requires projector, sensitive camera (or laser beams), and real time image processing. Not happening anytime soon due to power and device space requirements.
Holographic projector: although it sounds like science fiction, you can actually buy a virtual holographic display now. Keep reading for a demo of the real world technology:
Video: Real Life Holographic Display
The product is Heliodisplay by io2technology. It weights 70 pounds (31 kb), at least 280w of power, and costs $48,000 USD for L90, and $68,000 USD for L90i (L90i has air-touch control). Judging for the weight and price, it might be slightly too bulky and pricy to fit into the 2011 iPhone 5.
But if a holographic projector gets incorporated in a future iPhone, years from now Samsung (if it's still in business at the time) might Star Wars as prior art in Apple patent suit. Or maybe even this fictional iPhone 5 concept video by Aatma Studio will be used as 'prior art.' We'll wait and see.

Related Posts