Video: Fake iPhone 5 Design "Leaked" by Apple Store
Story: Apple Store Switzerland has a hidden link to iPhone 5 prototype images.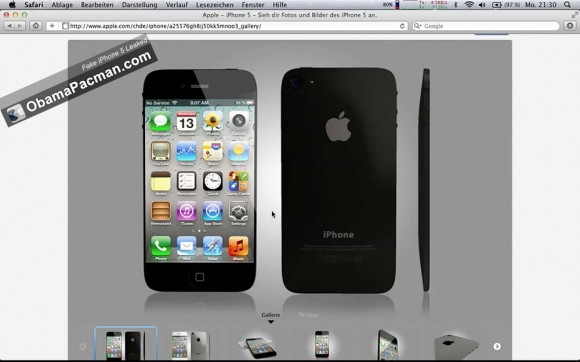 Video: iPhone 5 Design Leaked
Myth: Through a hidden link from Apple website, a Mac OS X Lion user is able to access the full iPhone 5 website, revealing first generation iPad inspired design, with specs and images in German.
Reality: Despite of multiple non-blurry images, this "iPhone 5 leak" is an elaborate hoax.

TAUW explains that the beginning of the video uncovered the truth. The browser address bar showed the fake Apple web site "leak" is actually based on files served the video creator's computer. NOT from Apple's web site.
ObamaPacman: it's actually the first frame that showed the fake iPhone 5 website is based on the computer of Peter. Perhaps the person created all the fake text, website, CAD rendered images, and video, but missed one frame in a video?
Dear OP readers, do you think the one frame lapse is sloppy or intentional?

Related Posts