iPad Design Obvious? Tablet Design Before & After Apple iPad
Microsoft tablet PC vs. Apple iPad vs. Android tablets.
Design History: iPad vs. Tablet Industry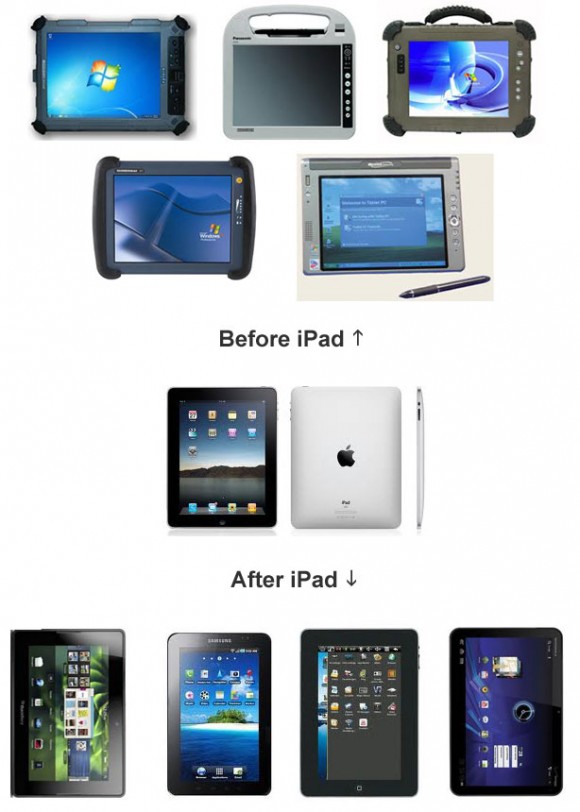 Some Fandroids believe that the Apple iPad design is "obvious", thus Android tablets are being totally original, instead being iPad knockoffs.
As the older Microsoft tablet PC showed, there are other ways to "design" a tablet.
Wait, aren't some people crying for stylus? How do you multi-touch with a stylus?
Update: Apple tablet concept from 1983 + iPhone design obvious?
Update 2: SockRolid told ObamaPacman earlier today that he is not the creator of the image, and does not remember where it's from.
PS. Re-post of image without source link = bad form. Dear Twitpic, Tumblr, and other image sharing site users, do you want to be known as an reporter or image thief?
Please credit your source if you like to be legit, otherwise it's stealing. In terms of image credit, this seems to be a repeat of the iCloud golden ratio post. In that case, OP was able to get through to John Gruber at Daring Fireball, which posted proper credit. Except at this time OP cannot find the author of the image, yet.
[subarusvx.com/BeforeAfterIPad.jpg via macrumors forums]

Related Posts