iPad 3D Modeling App: Audodesk 123D Sculpt
Autodesk, maker of professional 3D modeling software, just released a simple 3D clay modeling app for iPad. Free for a limited time.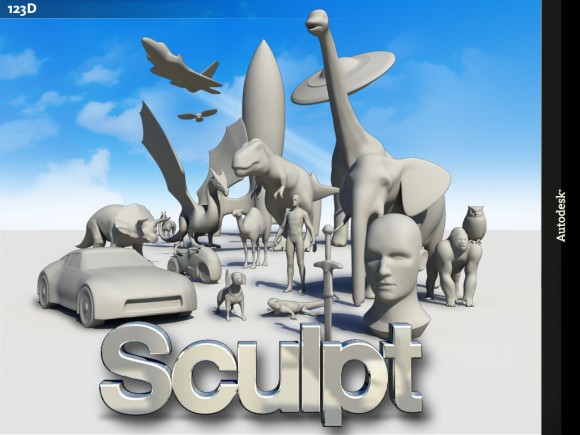 Ever want to tar a T-Rex with pink feathers? With the App, you can sculpt, mutate, or "improve" 3D model of Tyrannosaurus Rex, jet, dog, etc., color them, and add textures such as feather. All virtually on an iPad, with no need to clean up clay. Fun!
Autodesk 123D Sculpt features:
Comes with starting library of a few creatures, humans, and vehicles shapes (other shapes available as in-app purchase)
Experiment like real clay (but with undo)
Push, pull, smooth, grab, flatten, bulge, multi-touch tools
Use built-in brushes and textures or use your own images
Paint your clay sculptures
Email or share transparent PNG images to Facebook, Dropbox, Flickr
Export 720p HD QuickTime video turntables for YouTube or iMovie
AirPrint, print from iPad to compatible printers
Download Autodesk 123D Sculpt [App Store] for iPad. Currently free for a limited time.
What needs improvement: As of (version 1.0) there is no export of the actual 3D model. Perhaps write to the developer if you want it.
PS. Think you can do better than our dino? Post link to your best work below.
[via @bookofjoe]

Related Posts