iOS 5 Beta 5 Contains Hidden Speech to Text Recognition GUI
Apple iPhone has built in text to speech accessibility option for vision impaired. But what about the reverse?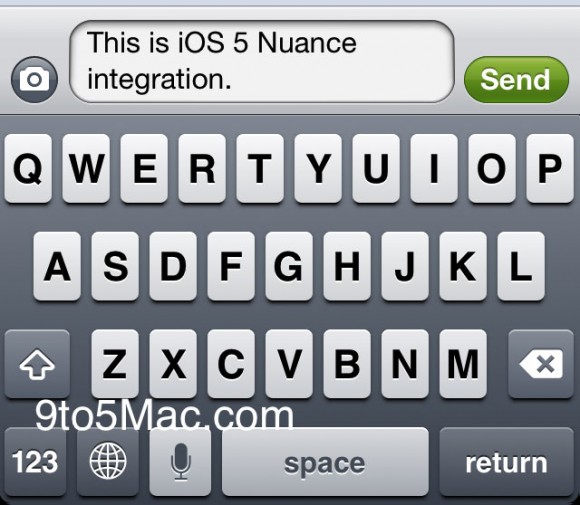 The latest iOS 5 beta 5 for iPhone and iPod touch contains GUI reference to integrated speech recognition, which turns what you say into text. 9to5Mac discovered. After turning on GUI access to the hidden feature, you'll see the microphone button is next to the space bar. The microphone GUI will then type out what you say.
How to Access iOS 5 Beta Speech Recognition
The feature is expected to use Nuance dictation, and might even be integrated into Siri based "Assistant" feature. Although those with latest iOS 5 beta can see the hidden microphone image and GUI, the voice recognition code is not available outside of Apple right now.
The beta doesn't contain the code, which means developers or jailbreakers cannot turn the feature on at this time.
What's more interesting is that Apple tried to hide the feature. Macrumors discovered:
In this instance, they've obfuscated the names of various pieces of the interface. For example, calling the microphone button "forward delete key" and the keyboard pretends to be a "Dvorak" keyboard.
2009 iPhone Speech Recognition
ObamaPacman notes: Voice recognition isn't new to Apple's iPhone and iPod touch. iOS already has a rudimentary version of speech recognition called "Voice Control". The feature was introduced in June 19, 2009 with iPhone 3GS.
Voice Control can be accessed on supported iPhone and iPod touch by holding down the home button. It can be used to make calls or play music (by album, playlist, or artist, NOT by song).
There are also individual free App Store titles such as Dragon dictation [App Store] and Google Search [App Store]. They are free but require internet access to process voice into text.

Related Posts