Hypocrite Google Executive Cries Foul: "When Patents Attack Android"
Google cries foul on Nortel Patents purchased by consortium lead by Apple, Microsoft, and BlackBerry maker RIM.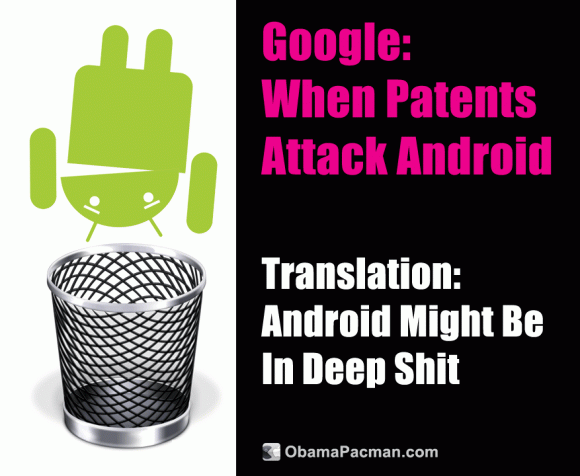 Important Nortel patents, which Google bid on, were surprisingly bought for $4.5 billion by Apple, EMC, Ericsson, Microsoft, Research In Motion and Sony on Jun 30, 2011. With the purchase clearing regulatory approval, it seems that Google executives are getting nervous about the possibility of Android ban.
When Delusional Android Drones Cries Foul
David Drummond, Senior Vice President and Chief Legal Officer of Google, wrote "When Patents Attack Android":
Android's success has yielded something else: a hostile, organized campaign against Android by Microsoft, Oracle, Apple and other companies, waged through bogus patents…

[Their] anti-competitive strategy is also escalating the cost of patents way beyond what they're really worth. The winning $4.5 billion for Nortel's patent portfolio was nearly five times larger than the pre-auction estimate of $1 billion.
However, despite of Google's North Korean propaganda styled PR, facts speak otherwise.
In reality, Google bid $3.14 billion for the patents. Apple, Microsoft, RIM consortium paid $4.5 billion, with Apple rumored to paid $2.2 billion. As Daring Fireball points out:
When the auction actually started, it's OK for Google to bid over $3.14 billion, but when Apple and Microsoft bid $4.5 billion, that's "way beyond what they're really worth". And if these patents are "bogus", why was Google willing to pay anything for them, let alone pi billion dollars?
ObamaPacman note: Perhaps Google executives are scared senseless that its Android mobile phone adware and spyware business is about to end?

Related Posts