Hurricane Irene: New York City, New Jersey, Connecticut Apple Store Closed [updated]
A number of Apple Stores are closed this weekend in NYC, New Jersey, Connecticut, and around the country due to weather conditions from Hurricane Irene.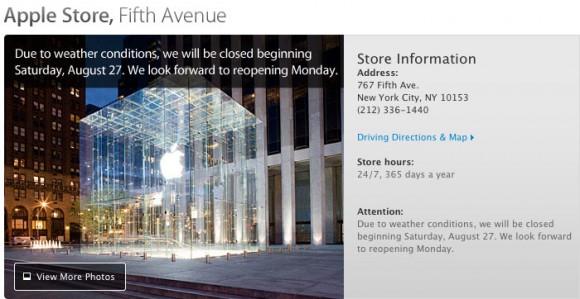 This weekend, if you are in the East coast, and looking to go to an Apple Store, check ahead with Apple before you go.
Due to Hurricane Irene, these Apple Stores will be closed Saturday and Sunday August 27, 28. They plan to reopen Monday. Here are the latest confirmed closings:
NYC Apple Store closed:
New York City, Fifth Avenue
New York City, SoHo
New York City, Upper West Side
New York City, West 14th Street
New York Apple Store closed:
Garden City, Roosevelt Field
Huntington Station, Walt Whitman
Lake Grove, Smith Haven
Manhasset, Manhasset
Staten Island, Staten Island
West Nyack, Palisades
White Plains, The Westchester
New Jersey Apple Store closed:
Atlantic City, The Pier
Bridgewater, Bridgewater
Cherry Hill, Cherry Hill
Marlton, Sagemore
Rockaway, Rockaway
Short Hills, Short Hills
Wayne, Willowbrook
Connecticut Apple Store closed:
Danbury, Danbury Fair Mall
Greenwich, Greenwich Avenue
Stamford, Stamford
Other stores might be closed, and conditions might change, so check with Apple Store if you are planning to go to an Apple Store in the next few days.
ObamaPacman:
Apple Store Northlake Mall in Charlotte, North Carolina originally planned its grand opening for today, August 27, 2011, but Irene probably changed the launch date.
Microsoft copy stores near Apple Stores are expected to follow Apple's footsteps.

Related Posts