HP Abandons WebOS TouchPad Tablet + Smartphone Business [Confirmed]
6 weeks after launching TouchPad, Hewlett-Packard, largest PC maker in the world, confirmed today of drastic changes to its business.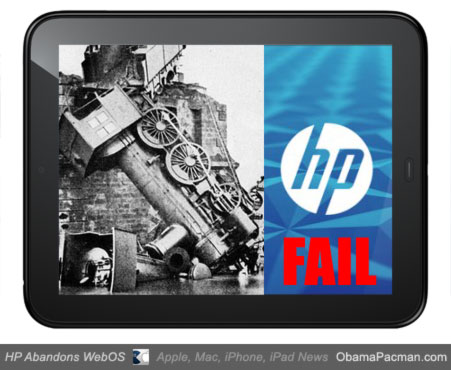 The former Microsoft partner, which released iPad-chasing tablet-duds such as the HP Slate with Windows last year and then WebOS HP TouchPad this year, might be giving up triple markets to Apple. Besides dropping webOS TouchPad tablet + smartphone business (bought for $1.2 billion from Palm) HP might even drop its primary PC business.
Business Wire reports that HP:
reported that it plans to announce that its board of directors has authorized the exploration of strategic alternatives for its Personal Systems Group (PSG). HP will consider a broad range of options that may include, among others, a full or partial separation of PSG from HP through a spin-off or other transaction.

In addition, HP reported that it plans to announce that it will discontinue operations for webOS devices, specifically the TouchPad and webOS phones. HP will continue to explore options to optimize the value of webOS software going forward.
HP blames low margin on Microsoft Windows based PCs for the possible move. Its WebOS TouchPad tablet effort has failed to in the competitive tablet industry in the post-PC iPad world.
Distraction: HP Might Offer to Buy Autonomy Corporation
Trying to sideline the bad news, today's HP PR statement starts out by announcing that HP might offer to buy a enterprise software maker Autonomy Corporation. HP did not mention that Autonomy is a relatively small company with $870.4 in revenue in 2010.
HP Re-Organization
ObamaPacman summary – the world's biggest marker of personal computers is:
Abandoning unsuccessful WebOS tablet smartphone hardware business
Considering quitting their primary PC business
Considering an offer to buy small company Autonomy Corporation
Considering licensing WebOS
This move by HP is similar to the move that Motorola mobility went through this January, which was the unprofitable company split off from the profitable side. It didn't help. The money losing Motorola sold itself to Google just this seek.
Dear Apple, yes, it's more spectacular roasting these companies. But maybe forget the lawsuits and let these makers of iPad and iPhone knockoffs implode? Let HP join Motorola, RIM, Nokia, and Palm (didn't HP bought Palm =p ) in their demise.

Related Posts