Google Buys Money-Losing Android Maker Motorola for $12.5 Billion [Analysis]
Google buys Motorola purchase to limit Android competition?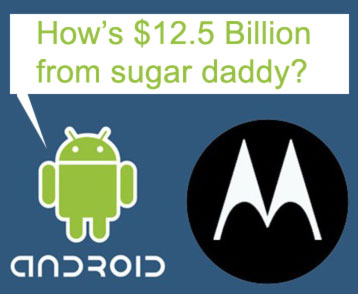 This week, Motorola claimed that it has a strong patent portfolio that could be used against other Android makers as a competitive advantage. Before Motorola can join Microsoft to collect royalty from other Android makers, Google announced a buy out. The surprise move came after Google lost Nortel and Novell patents to Apple consortium, and whined loudly about it. Just weeks on the rebound, Google buys the loser Motorola instead.
Google, announced the $12.5 billion purchase (63% premium to stock price) in its "supercharging-android" (pimp-my-car?) announcement:
Motorola Android Achievement
In 2008, Motorola bet big on Android as the sole operating system across all of its smartphone devices. It was a smart bet and we're thrilled at the success they've achieved so far.
In reality, Motorola lost money selling all the Android phones and shipped (not sold) very few Android tablets.
Google Supercharge
Together, we will create amazing user experiences that supercharge the entire Android ecosystem for the benefit of consumers, partners and developers everywhere.
The failure known as the Google phone Nexus One is what happened when Google tried to change the Android ecosystem in the past.
Android Closed to Competition
This acquisition will not change our commitment to run Android as an open platform. Motorola will remain a licensee of Android and Android will remain open. We will run Motorola as a separate business.
Google has been making a "Google Phone" with the Nexus name for the past few years. It has already left Nexus One maker HTC, and moved to Samsung to produce the Nexus S. But what would happen for the next model? Will Samsung or HTC get the job? Of course not. Instead, Google's own Moto subsidiary will make the device.
If past few years of Android history is a guide, Google's own phone WILL get the latest software and security updates first. Meanwhile, for months, the same updates are closed to the competition.
Thus, despite of what the Mountain View PR department claimed, Google has a $12.5 billion incentive to make sure its own Motorola gets every advantage it can.
Translation: Google's purchase will limit Android competition by favoring its own phone division, and screwing the other Android makers.
ObamaPacman has seen this before. Years ago, although promised otherwise, Microsoft soon abandoned its PlaysForSure music player "partners" when it introduced its own music player Zune. (The failed Zune platform is now being abandoned by Microsoft yet again but that's another story).
So, when 2012 comes, assuming that the deal was approved by regulators and stockholders, it will be the year of Google leaving other Android makers behind. That is, if enforcement of intellectual property rights by Apple, Microsoft, or Oracle don't get to other Android makers first. Maybe Motorola will become a very expensive paper weight if Android is banned from being imported. Or it could fail the way of Nokia or BlackBerry maker RIM laid offs.
PS. Similar to any merger, expect a number of Motorola employees to be laid off by Google after the merger.

Related Posts