Google: Flash Ads have Lowest Click Through Rate
Google DoubleClick Click Through Rate (CTR) report: Image vs Flash vs. Rich media ads.
Banner Advertising CTR by Industry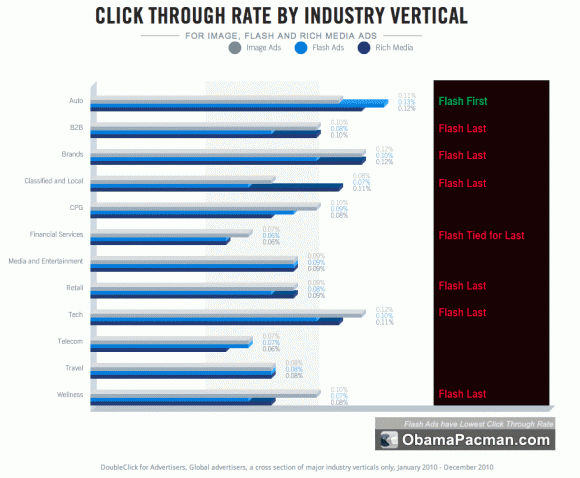 [Data: Google Response Rate Benchmarks]
Using Google's published data on ad click through rates, ObamaPacman discovered that, out of 12 industries:
Only 1 industry Flash ads highest CTR
6 industries Flash ads last CTR
1 industries Flash ads tied for last CTR
Data are a cross section of major industry verticals from January 2010 to December 2010. The twelve industries are: Auto, B2B, Brands, Classified and Local, CPG, Financial Services, Media and Entertainment, Retail, Tech, Telecom, Travel, Wellness.
In the Auto industry, Flash ads have the highest click through. Perhaps because those ads are actually created by ad agencies, and not primarily cobbled together by Flash developers. In most of the other "major" industries, Flash results in less customer response.
Popular Ad Sizes
Ad sizes with the most click through rate tell a similar story.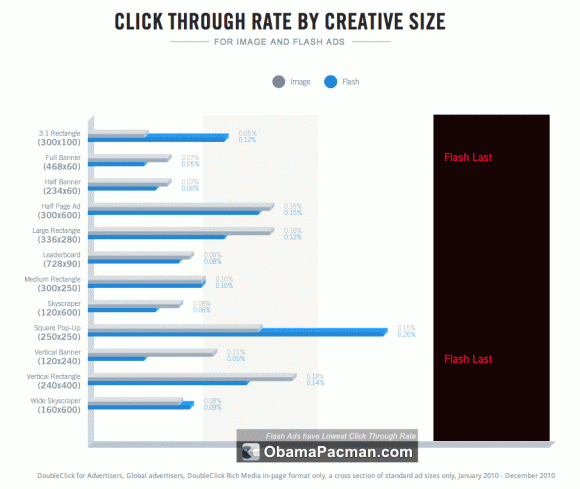 There is one exception, the 250×250 square pop-up with Flash has the highest CTR. Maybe people are trying to hit the (x) to get rid of the pop-up ad, but click on the ad by mistake? In most of the other sizes, image beats Flash in click through.
The second most popular size (besides the shady pop-up) is 240×400 image vertical rectangle, with 18% CTR.
The lowest click through are: 468×60 banner with Flash & 120×240 vertical banner with Flash with 0.05% CTR.
ObamaPacman pro tip: higher click through might NOT result in highest revenue. Smaller ads tend to pay less per click, so judging by CTR might not result in optimal revenue for a site. There are other factors too. However, it seems universal that Flash ads results in lower engagement rate in the recent year.
In conclusion. Perhaps Steve Jobs' war on Flash is right?
The irony is that Google used Flash for the report. Time to change up to something that results in better engagement?

Related Posts