Samsung Android Tablet, Galaxy Tab 10.1, Banned by EU Apple Injunction
Samsung's Android knockoff of Apple iPad tablet is banned from sale from the entire European Union (EU) except for the Netherlands.
European Union Samsung Galaxy Tab 10.1 Android Tablet Ban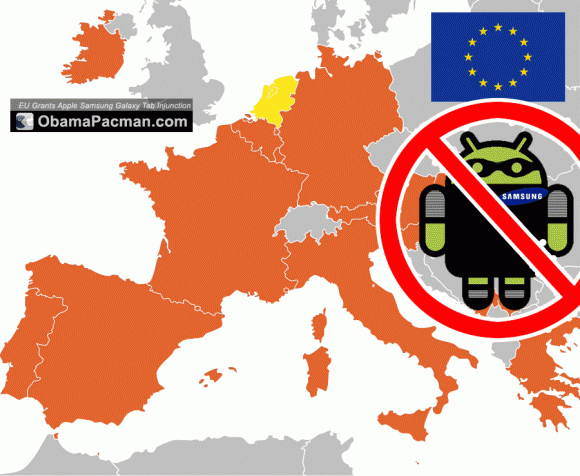 ORANGE: European Union. Sweden, Finland, etc not shown. YELLOW: Netherland
FossPatents on a development at Landgericht (district court) of Düsseldorf, Germany:
Apple has been granted a preliminary injunction against Samsung's Android-based Galaxy Tab 10.1, barring with immediate effect all distribution of the product in the entire European Union except for the Netherlands on the grounds of an alleged infringement of Apple's iPad-related [European] Community design no. 000181607-0001…

Preliminary injunctions in Germany take immediate effect, though an EU-wide one may require additional registrations in other countries (possibly a mere formality).
Apple has a separate lawsuit in the Netherlands against Samsung. Apple also has a case against Samsung with the United States International Trade Commission (ITC). Samsung might lose that too, because ITC is expected to ban HTC Android phones later this year.
Recently, Samsung "postpones" its Australia launch of the Galaxy tab 10.1, due to similar infringement issues.
Apple spokeswoman Kristin Huguet spoke to Bloomberg:
"It's no coincidence that Samsung's latest products look a lot like the iPhone and iPad, from the shape of the hardware to the user interface and even the packaging," Huguet said, reiterating comments made by the company in April. "This kind of blatant copying is wrong, and we need to protect Apple's intellectual property when companies steal our ideas."
ObamaPacman: The Android house of intellectual property theft is continuing to crumble with the latest Apple wins. The ongoing Oracle vs. Google lawsuit reveals that Google engineers recently admitted that Android "needs to negotiate a license for Java" to avoid infringement. Microsoft has also started collecting royalty from Android device makers.

Related Posts