Download: Adobe Edge HTML5 Web Developer Tool Preview
Adobe finally released an official HTML5 web developer tool that can make animation for iPhone and iPad sans Flash.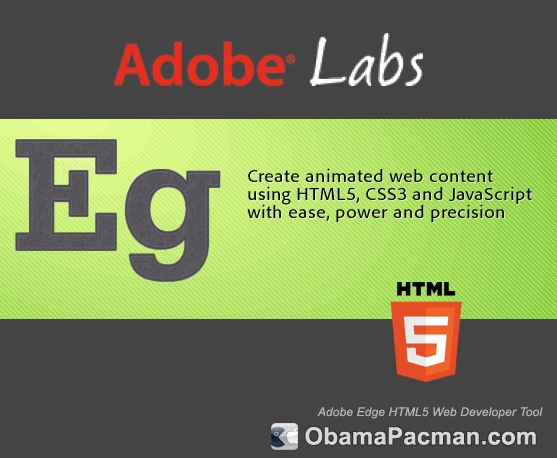 Adobe Edge:
"Create animated web content using HTML5, CSS3, and JavaScript with ease, power, and precision."
Some of these Adobe Edge created HTML5 examples contain Pixar like logo animation:
Adobe Edge review? Works great on mobile devices such as iPhone and iPad! And it doesn't drive up the CPU usage on a computer.
Video Demo: Adobe Edge Preview
Edge Preview 1 Feature Highlights:
Create new compositions with Edge's drawing and text tools.
Import popular web graphics such as SVG, PNG, JPG or GIF files.
Easily choreograph animation with the timeline editor. Animate position, size, color, shape, rotation and more at the property level.
Energize existing HTML files with motion, while preserving the integrity of CSS-based HTML layouts.
Copy and paste transitions, invert them, and choose from over 25 built-in easing effects for added creativity.
HTML5 vs. Flash
Preview of Adobe Edge is released 4 years after Apple famously rejected lousy Flash from iPhone, and reiterated with Steve Jobs' War on Flash. Apple has championed HTML5, a new web standard, and looks like Adobe finally gave in.
The Adobe HTML5 tool is "Preview" software, which means that it hasn't even reached beta stage yet. Hopefully it won't follow Flash and get stuck in perpetual beta.
But judging from the smoothness of the Adobe Edge examples, it looks promising.

Related Posts