Debunked: Samsung '2001 Space Odyssey' as iPad Prior Art [Analysis]
Samsung uses Stanley Kubrick's 1968 science fiction film as evidence against Apple's intellectual property infringement lawsuit.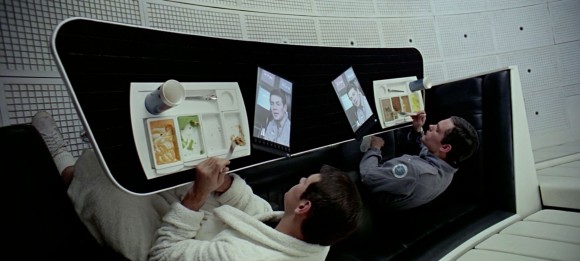 In the fight against knockoffs, in July Apple filed motion for preliminary injunction against Samsung phones and tablet in California courts.
Florian Mueller at Foss Patents reveals Samsung is now countering in a newly filed opposition brief using science fiction film:
Attached hereto as Exhibit D is a true and correct copy of a still image taken from Stanley Kubrick's 1968 film "2001: A Space Odyssey." In a clip from that film lasting about one minute, two astronauts are eating and at the same time using personal tablet computers. The clip can be downloaded online at http://www.youtube.com/watch?v=JQ8pQVDyaLo. As with the design claimed by the D'889 Patent, the tablet disclosed in the clip has an overall rectangular shape with a dominant display screen, narrow borders, a predominately flat front surface, a flat back surface (which is evident because the tablets are lying flat on the table's surface), and a thin form factor.
Here's the exact low-resolution YouTube video Samsung submitted as evidence:
Samsung Prior Art Argument Does Not Make Sense
ObamaPacman: Samsung claims that the movie prop is a personal tablet computer. How does that stack up to reality?
"Personal" Tablet Computer: Interaction / User Control
"Personal" tablet claim: if the device is personal, why are both devices playing the SAME TV broadcast? How come the characters do not interact with their "personal" devices? Movie demonstrates tablet "use":
Mouse control? None.
Stylus input? None.
Touch screen? None.
Voice input? None.
Personal interaction? None.
The prop has keys from 0 to 9 but no one touched any key. Instead, the prop acted similar to a TV. There was zero user interaction or "personal" control of the device, which displayed only a BBC TV broadcast.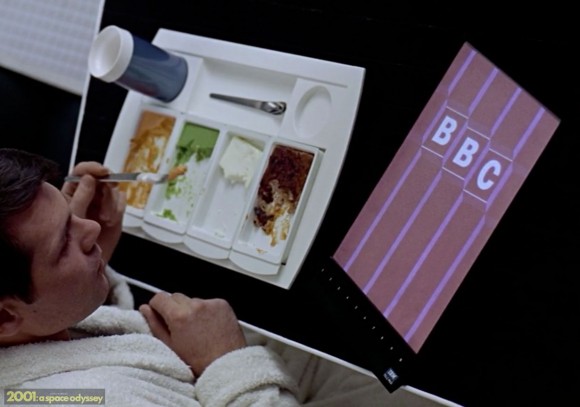 Samsung seems to believe that a fictional, non-moving device that acts as a table top TV = tablet. So Samsung must think these wall mounted monitors are tablets: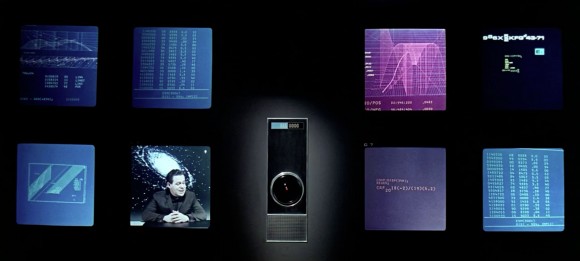 Portable Device
If the Space Odyssey movie prop is supposed to be a portable tablet computer, why are the astronauts using paper? (When You can draw on iPad tablet.)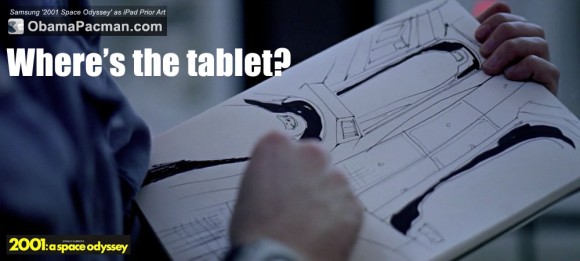 If a tablet computer can reduce the need for paper and bring real time information everywhere, why would you use paper clipboard instead of a tablet computer?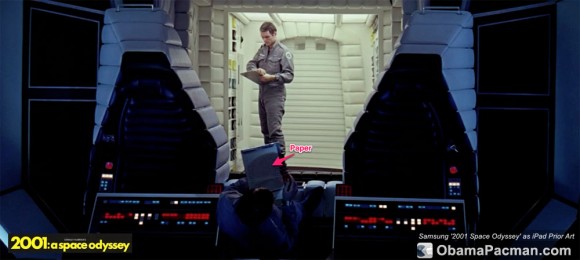 Maybe the movie doesn't show device interaction? But wait, the chess game with Hal 9000 computer is controlled by voice recognition: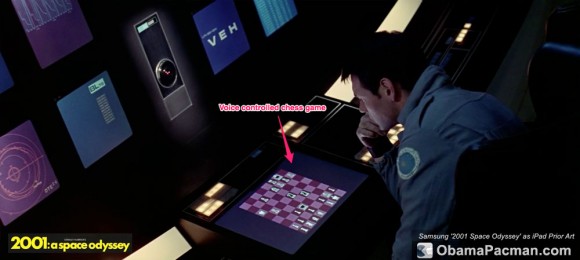 At other places in the movie, characters use physical buttons to control computers. No mouse (which Apple popularized year later), and the movie does not show interaction with "tablet".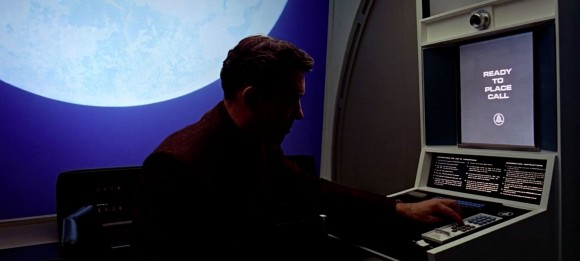 More interaction with hardware button. Still no tablet with a touch screen!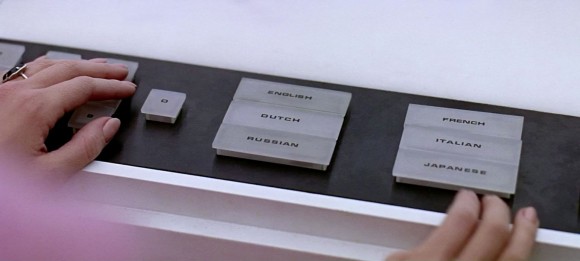 Tablet "Design"
And finally, how cheap is Samsung? The blu-ray disk for 2001: A Space Odyssey is only [$12.49 on Amazon
] and the lawyers only submitted a low-resolution screenshot of YouTube video as evidence? Obviously, the Korean based Samsung did not want to pay even the meager twelve dollars to a US movie company to help its legal defense. Unfortunately, if Samsung did spend a few dollars to buy a high quality version, they would have known that the movie prop is of a different design than the Apple iPad.
Here's ObamaPacman's quick illustration of the Space Odyssey "tablet" (made on iPad in a minute):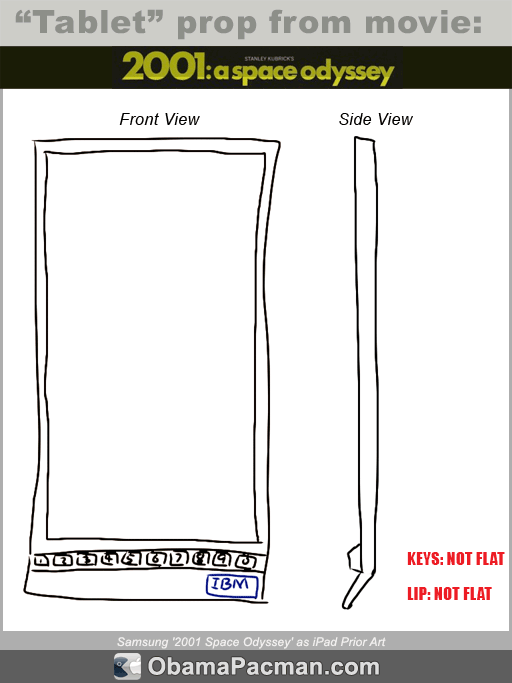 Assuming that the device is not an installed TV, there are major design differences between the movie prop and iPad:
Bezel size: The movie prop bezel is much thinner than the Apple tablet. In contrast, the iPad's thicker bezel design provides enough room to hold the Apple tablet without triggering touch display.
Screen not centered
Much larger device. Not as portable as iPad (maybe iPad design is obvious)
10 number keys on bezel (0 to 9 keys): perfect way to select a TV channel on the tele
In addition to protruding number keys, side view shows angled lip on the bottom. That surely makes the device flat. (Maybe in Samsung's silly world).
Well, maybe Samsung's silly science fiction excuse for making knockoffs of Apple's market leading tablet will fool fandroids. But unlike Android fans, the judge isn't gullible.
In reality, is it more likely that Apple reversed engineered a movie prop with no working parts (which doesn't even look like the iPad) to create the iPad, or that Samsung reversed engineered the market leading Apple tablet?

Related Posts