BestBuy: Low Demand for HP TouchPad Tablet, 10% Inventory Sold
Hewlett-Packard gets no respect from Best Buy, after HP TouchPad fails to sell even after multiple price cuts.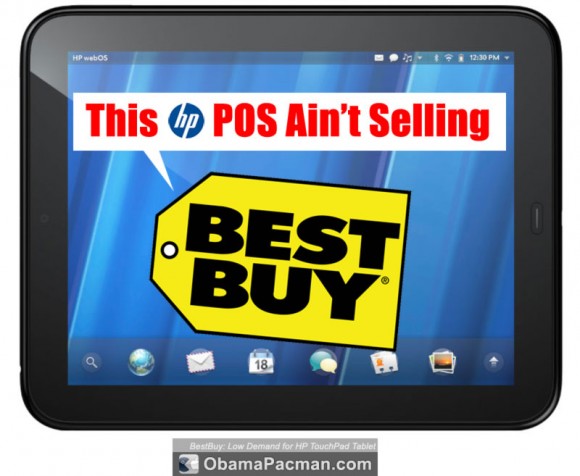 HP TouchPad Low Sales
Some say the HP TouchPad running WebOS from Palm is an iPad contender, but the market doesn't think so. AllThingsD reports that despite multiple sales, fewer than 10% of 270,000 TouchPad shipped to Best Buy are sold, and that the "25,000-unit sales number may not account for units that consumers return to stores for a refund".
Best Buy, sources tell us, is so unhappy that it has told HP it is unwilling to pay for all the TouchPads taking up expensive space in its stores and warehouses, and wants HP to take them back. HP, for its part, is pleading with Best Buy to be patient.
ObamaPacman: Ouch, seems that HP is about to follow Nokia, RIM, Motorola, etc onto the fail boat.
AllThingsD has deep connection with industry insider, so they are a reliable source. It provides additional evidence of low TouchPad demand: Woot, which had the HP tablet for $120 off (24% off) only sold 612 HP fail pads to the whole United States.

Related Posts