Apple: Most Valuable Company in the World
At the close of stock market this Wednesday, August 10, 2011, Apple became the largest company in the world by valuation.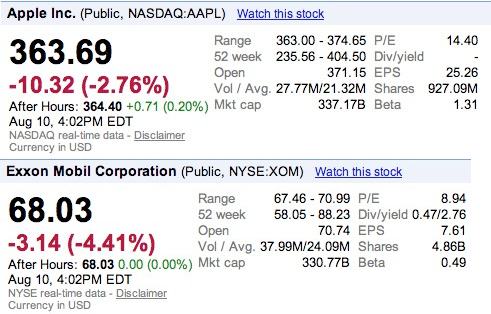 From near bankruptcy to most valuable company in the world in 14 years!
Steve Jobs must be product of Apple's latest achievement. On Tuesday Apple valuation briefly surpassed Exxon, but the market cap closed slightly lower. On Wednesday, the closing market capitalization for the companies:
Apple (AAPL): 337.17B
Exxon Mobile Corporation (XOM): 330.77B
Apple might be worth more than Exxon Mobil, but XOM remains a much bigger company. Exxon made $10.7 billion in profit on $121.4 billion in revenue in the June quarter with 83,600 employees.

Apple made $7.3 billion on $28.6 billion in revenue with 46,600 employees last quarter.
ObamaPacman: However, Apple is continuing its strong growth, dominating the PC industry's top customer segment with Mac, and dominating the former low netbook segment with the highly successful iPad. And Apple knockoffs such as the Motorola Xoom and RIM BlackBerry Playbook can't keep up with the Cupertino company.
Apple market cap surpassed Microsoft's in May of 2010, leaving Apple's arch rival (and defective copy machine) in the dust.

Related Posts