Apple Briefly Worthed More Than 32 Largest Eurozone Banks Combined
In Steve Jobs we trust. Another Apple financial milestone.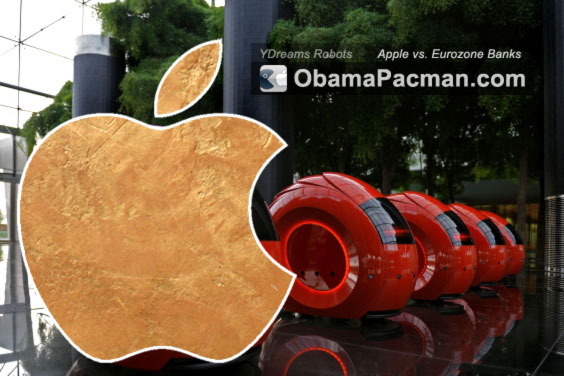 Reuters (via macnn) describes that earlier today Apple company value beat the combined value of France BNP Paribas bank, Germany Deutsche Bank, Italy Unicredit bank, Spain Santander bank, and 28 more of the largest Eurozone banks:
Earlier on Friday the DJ STOXX euro zone banks index fell 4 percent, valuing its 32 members at $340 billion…

The euro zone banks have lost three-quarters of their value since peaking in May 2007.

In contrast, Apple's market capitalization has soared to $340 billion on the back of the success of innovative technology products like iPods, iPhones and iPads.
ObamaPacman: don't forget the Apple computer aka Mac. Success of Apple computers in the high end personal computer market is driving the largest PC maker in the world, HP, to abandon the PC market.
Just last week, Apple briefly bypassed Exxon to became largest company by market capitalization. Perhaps we can have Steve Jobs Apple money soon?
Illustration based on image of Spain Santander bank headquarters near Madrid. The 400 acre campus has robotic guides called Santander Interactive Guest Assistant (SIGA), created by YDreams (video).

Related Posts