Angry Birds Moon Cake + Seasons App Chinese Update Invades China
Rovio reveals Angry Birds' official launch in China, with Mid-Autumn Festival themed edition.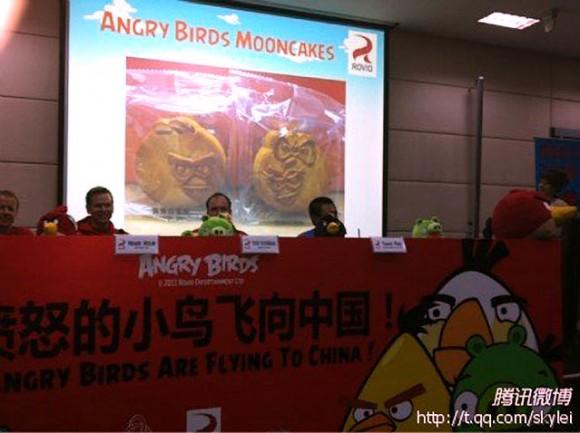 Announced in Shanghai, Rovio's China launch will include Chinese themed Angry Birds Seasons, Angry Birds shaped moon cake (a Chinese delicacy), and merchandise such as sneakers.
Angry Birds downloads have reached more than 300 million globally. China is currently the second largest market for Angry Birds and represents immense potential for continued growth. Rovio Entertainment is forecasting 100 million Angry Birds downloads in China by the end of 2011, according to Peter Vesterbacka, Rovio's global Chief Marketing Officer or "Mighty Eagle."
Angry Birds Seasons [$0.99 iPhone + iPod touch or $1.99 iPad] update is expected to be released in China and worldwide on or before Mid-Autumn Festival, which takes place on September 12 this year. Angry Birds shoes are already available at Chinese site Letao.
Irony: moon cakes typically contains an egg yolk in its center to symbolize the full moon. It is still delicious but the birds probably won't be too happy to hear that. But maybe the $0.99 Apple App Store popularized pricing will lower the prices of the expensive moon cakes?
Thanks to my sister for the tip!
[Chinese site QQ via Penn-Olson] Image correction by ObamaPacman.

Related Posts