Acer Founder Stan Shih Calls iPad + MacBook Air a Fad
Acer founder fails to understand why iPhone and iPad are making significant impact on PC demand, believes sluggish cheap PC is still the future.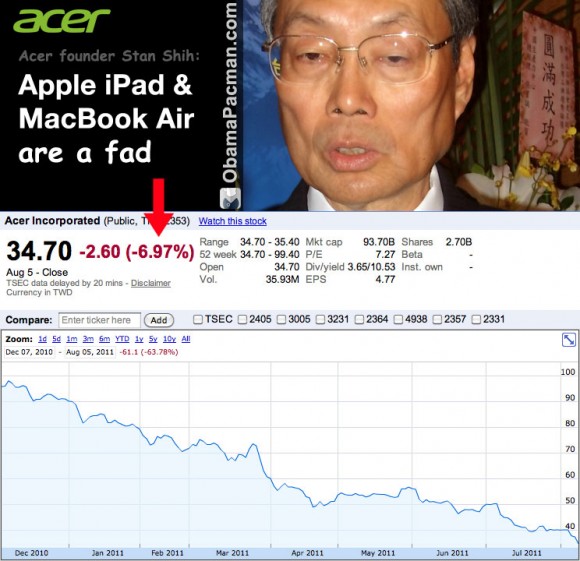 Today, Acer stock price dived to hit its yearly low of $34.70, down 65% from the December high of $99.40. I wonder why?
Acer founder Stan Shih has commented that the fads for ultrabooks and tablet PCs are both short-term phenomena…

Shih pointed out that PCs are the base of the IT industry and tablet PCs are also developed from the base; therefore, in the future, products will still need to go through the PC platform to create even more add-on value.
In 2010 he said the iPad is a fad too, since then, iPad is killing Acer's netbook and tablet business. That must be why the PC has "more value". In contrast, Apple sold 9.25 million iPads in the most recent quarter, resulting in record profits.
But wait, the Acer founder still ignores the reality:
Shih pointed out that consumers want products with low price and convenience.
Again, cheap PC = netbook, which are already dying because iPad kills netbooks in usability and responsiveness. As to a product with low price? Brand new Apple iPad 2 is $499, and you can even buy refurb $349 iPad from Apple.
So let's see, what are the investors doing? Rewarding Acer because Apple iPad and MacBook Air are really a fad? Or perhaps punishing PC maker Acer as its tablet and ultrabook knockoff cannot compete? Acer Stock lost (-6.97%) in one day at the end of Aug 5, 2011 trading. Stan Shih, please go join Steve Ballmer and keep crying. Acer already fired CEO Gianfranco Lanci earlier this year. Too bad it can't fire its founder.
Perhaps this is the real reason behind Acer's founder's latest cry: PC Makers' Apple MacBook Air Knockoff Costs More Than Mac. In Acer's opinion, if you can't compete, might as well put your head in the sand. Maybe the iPhone 5 and iPad 3 will be a fad.

Related Posts