Wood Whale Desk Organizer Eats iPhones!
iPhone eating wood whale desk organizer can make desk tidy.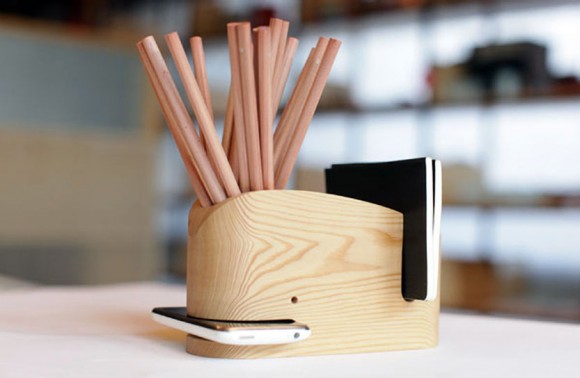 Desktop organizer with integrated iPhone holder:
"The Wood Whale holds all of your desktop belongings so they don't stray. Pens in the spout, phone in the mouth, letters in the tail. Service with a smile…

The Whales are crafted with care, hand-oiled, signed, numbered and packed carefully for migration."
Showed with iPhone 3G / 3GS in its mouth, but does it hold the iPhone 4? Utility Collective told ObamaPacman:
"The Whale holds an iPhone 4, but not with the bumper or any thick case. The opening is 0.5″."
Basically, the whale holds any iPhone (from the original 2G, 3G, 3GS and iPhone 4). That means it should hold the thinner iPod touch with or without a case.
Designed by Eric Pfeiffer, $60 for white pine, $65 for beech or redwood.
Order on: [The Utility Collective]

Related Posts