Using iPad Drchrono EHR App Can Pay Doctors $44,000 to $63,750 Incentive
Obama administration has a $12 billion incentive for 'meaningful use' of Electronic Health Record (EHR) such as iPad by doctors and medical professionals.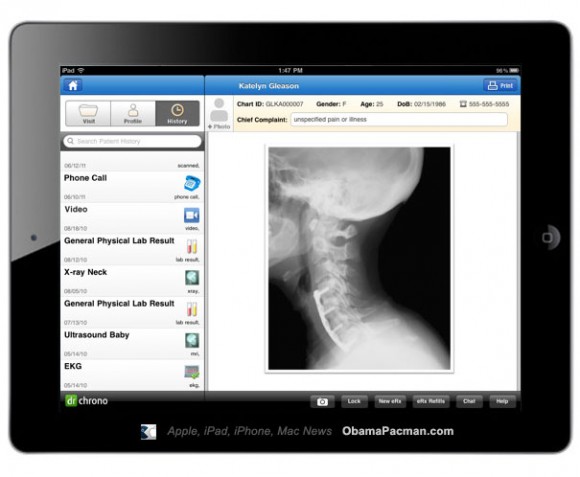 It means paying up to $44,000 in Medicare OR up to $63,750 in Medicaid incentives. And there's an app for that on the iPad: DrChrono EHR [App Store, free], which qualifies for ONC-ATCB stage 1 meaningful use criteria.
Why? The Next Web (via gizmodo) explains:
Through this initiative, the federal government hopes to save more than $12 billion over the next 10 years while the RAND Corporation, a global policy think tank, estimates savings of about $80 billion a year for the healthcare sector when they move towards paperless medical records.
That means at a conservative estimate, the cost will be paid off in a decade. And at the best case, there is saving of $68 billion per year. And that's before considering iPad's other benefits such as saving medical professional cost of printing.
Wow. iPad, this changes everything.
The Apple tablet is making pilot's life easier too, with potential medical and fuel savings to the airline industry.
The iPad Drchrono EHR app [App Store] features:
Realtime medical speech to text
Paperless medical billing
Take iPad 2 photo/video patient documentation
Locking & e-signing of note
View and print entire patient charts (including x-Rays) from the iPad, and more
Eligible medical professionals, eligible hospitals, and CAHs, time to buy some iPad 2 if you haven't yet. Dr Chrono, maker of the free iPad app (subscription required for service?), has tables of Medicare and Medicaid EHR Incentive Payment Schedule. CMS.gov describes meaningful use and incentives.

Related Posts