SkyView iPhone Augmented Reality Star Gazing App
Great stargazing app that blends 3D images + AR camera view on iPhone and iPod touch.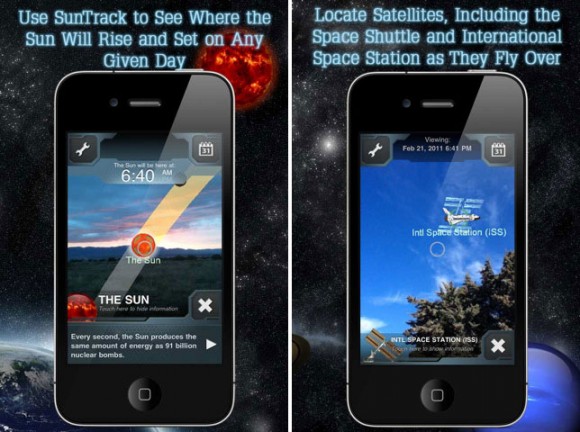 SkyView [App Store] is a pretty amazing astronomy app perfect for amateur astronomers. Features:
Augmented reality with gyroscope support
Sky paths of sun, moon, or a planet
Locate International Space Station (ISS), satellite (includes Space Shuttle)
Current and predict object locations
Search for planets, starts, constellations, and satellites, with AR arrow to help locate target
Interesting facts about celestial body
Landscape view shows real time azimuth, elevation, right ascension, and decline
What needs improvement:
Should add multi-tasking support (app last updated in May, but does not save the object you are tracking)
Universal update with iPad support would be nice (unlikely to happen before multi-tasking is added)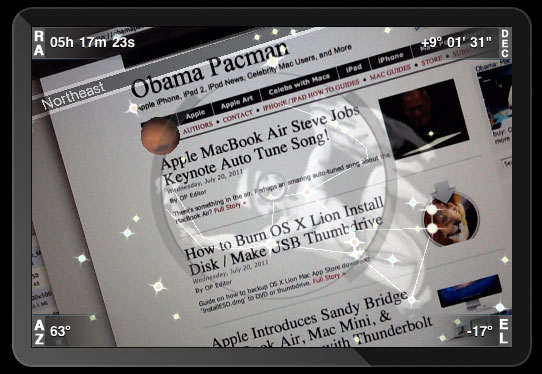 SkyView [App Store] is currently on sale for $0.99 in honor of NASA's final Space Shuttle Mission (Atlantis) until July 21st.
Version reviewed: 1.2.1 released May 23, 2011. SkyView is optimized for iPhone and iPod touch. Works in slightly pixelated x2 mode on iPad.

Related Posts